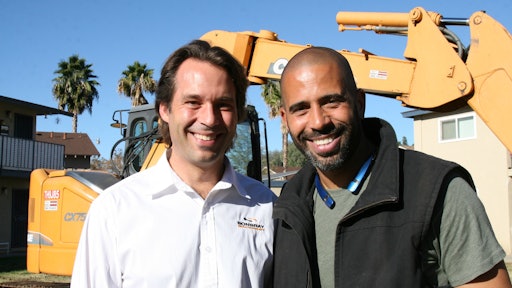 CASE Construction Equipment and Sonsray Machinery have provided the use of a mid-sized excavator and two compact track loaders for the construction of a new outdoor landscape, edible garden and hardscape design by landscaping expert and TV host, Ahmed Hassan.
The project – a landscape/foodscape and outdoor living/play space installation at the Aster Street Gardens transitional housing project – is the work of Hassan's organization of "Sustainable Heroes." Sustainable Heroes is a freelance group of professionals including contractors, carpenters, landscapers, project managers, designers and more. The group travels the country and chooses humanitarian and sustainability projects where they feel their charitable works will make a positive impact on a particular community and/or help bring awareness to a worthy cause and organization. This particular project partners Sustainable Heroes with Interfaith Community Services of Escondido, California.
The equipment – a CASE CX75C SR hydraulic excavator and TR320 and TV380 compact track loaders – were used in the earthmoving phase of the project and assisted with the demolition of unwanted plant material, and the placement and planting of new trees, shrubs and hardscaping materials.
Hassan, a longtime TV personality who uses his blitz-style landscape makeover skills as a way of advancing charitable and humanitarian efforts, sees the Aster Gardens project as "the perfect way to give back to both the community and a wonderful organization that does so much to help the less fortunate in the community during the Thanksgiving season and year-round."
"The capacity to pay it forward is one of our greatest human talents," says Hassan. "Aster Gardens provides women, children, seniors, vets and others with a safe place to get their lives back on track after homelessness or difficult and traumatic life circumstances – the new landscape will provide their family complex with an outdoor living space and recreational area for the people who live there to relax, play and socialize, while enjoying their natural surroundings. We are grateful for the participation of companies such as CASE and Sonsray who have donated their time, coordination and these extremely valuable resources to improve this community's space."
"We're inspired by the work Hassan and his team does, taking the craft and skill of landscaping and turning it into something that improves the lives of others," says Jim Hasler, vice president – North America, CASE. "What his team has done with Aster Gardens is remarkable, and we're proud our equipment helped make it happen."
More details and project photos can be viewed by following the Aster Gardens project on Twitter (twitter.com/STHeroesOrg/) or Facebook (facebook.com/events/1650096175269411/), and via the #AsterGardens and #SustainableHeroes hashtags. Learn more at SustainableHeroes.org.
Companies in this article