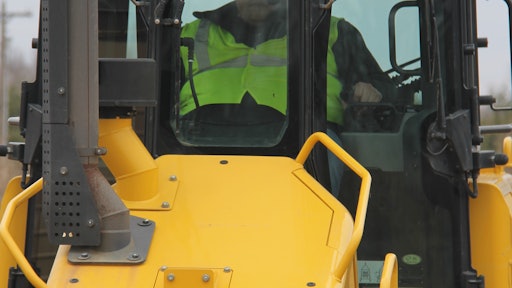 Komatsu America Corp., a global heavy equipment manufacturer, and Extreme Sandbox, LLC, a heavy equipment adventure company, today announced an exclusive equipment sponsorship agreement that enables both companies to expose a new generation  of Americans to heavy equipment operation and an under-explored area for rewarding careers.
Extreme Sandbox provides guests with a unique opportunity to fulfill their childhood dreams of operating real construction machines. The adventure takes place in a 10-acre "sandbox," with training supervision from trained expert instructors who help guests learn and operate the machines, provide a proper operating environment and provide a fun and memorable experience. The company intends to expand nationally.
The alliance with Komatsu will enable both companies to increase the public's exposure to heavy machinery. "This alliance is an opportunity to transform these impressive marvels of engineering technology from a roadside and work-zone curiosity into an informative, exciting, hands-on experience," said Rich Smith, VP, Product and Services Division for Komatsu America Corp. "Long term, we hope climbing inside and feeling the comfort, speed and power of these machines inspires a new generation of men and women who are good with their hands to consider careers in the construction industry. The construction industry provides great employment opportunities for future operators, technicians and engineers. The degree to which cutting edge technology will shape the jobsites and careers in the construction industry of the future is a well-kept secret – we want to change that."
"We are thrilled to showcase the Komatsu brand of equipment at our Extreme Sandbox locations nationwide," said Randy Stenger, Founder & CEO of Extreme Sandbox. "Our business has grown quickly, and with that, we desired to work with an equipment manufacturer that both has a top reputation and can help support our national growth.
"We have built an experiential brand that knows how to have fun - that's what we do - so it's great to be able to expand into other areas to leverage our very unique skill set," he continued. "We see tremendous value in using 'fun' to get students excited about the heavy equipment trades, as well as letting the general public experience what it is like to operate these types of equipment. It really does leave people with a new appreciation for what our construction workers do on a daily basis and we are proud to be able to represent the Komatsu brand."
Extreme Sandbox locations include the Trip Advisor #1-rated attraction site in suburban Minneapolis (Hastings), plus a second site opening April 15, 2016, an hour north of Dallas, TX. Site openings are also planned for several US cities in the next few years. Permanent sites will also offer the opportunity to schedule machine and safety training at the high school and community college level, as well as demonstration and customer appreciation events for local distributors.
At the same time, through collaborations with local distributors, Extreme Sandbox will embark on periodic road tours that spread the message of a thrilling experience and a rewarding career to local communities across the country, via tailgating events, state fairs, festivals, parades, etc.
Companies in this article