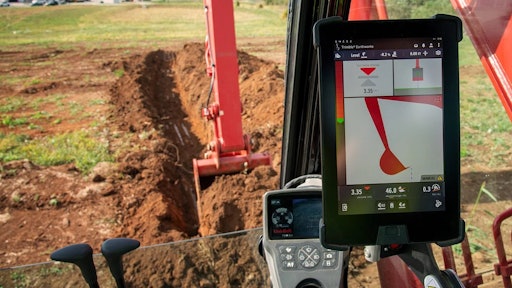 Upgrade kits provide all necessary components, hardware and software required to upgrade a standard machine to 2D/MG (Machine Guidance) or 2D/MC (Machine Control), or upgrade a machine with 2D/MG already installed to a 2D/MC capable machine.
Link-Belt Precision Grade 2D/MG system uses technology from Trimble to provide the operator with visual and audible indication when they are above, below or at their desired target grade and adds autonomous control of the boom and bucket while the operator controls the speed of the stick to maintain a consistently smooth flat or sloping surface.
Link-Belt Precision Grade offers the customer up to 50% improvement in production, reduced backfill expenses, and increased efficiency that translates into reduced cost of ownership and operation
Easy-to-learn software runs on an Android operating system and gives operators of all skill levels the ability to work faster and more productively than ever before
Kit component warranty is valid for 12 months after successful registration. All parts have a 1-year/1800 hour warranty.
Request More Information
Fill out the form below to request more information about
LBX Offers Trimble Precision Grade Upgrade Kits for Link-Belt Excavators