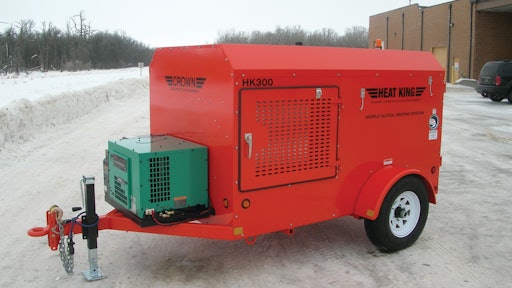 Used for ground thawing and concrete curing, the Heat King Glycol Mobile heater is available in three sizes depending on the coverage area needed to be thawed or cured: HK 150, HK 300 and HK 500. The unit is built for cold weather climates and tested to -40 degrees Fahrenheit.
200,000 BTU heat exchangers
Double loop design for consistent heat
Reservoir in heater loop has two 250,000 TBU coil heaters
HK 150 designed to thaw ground, cure concrete or provide temporary heat for up to two new home sites at the same time
HK 300: 300,000 BTU; for residential or commercial use
HK 500: thaw up to 11,200 sq. ft. and cure up to 22,400 sq. ft. of concrete; provides temporary space heating up to 15,000 sq. ft.
Brochure: Heat King HK300 Hydronic Heater
Heat King Cost Comparison: Hydronic Heaters vs. Space Heaters
How to Thaw Frozen Ground and Cure Concrete in Cold Weather
Request More Information
Fill out the form below to request more information about
Heat King Glycol Mobile Heater