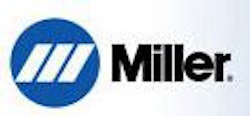 Miller Electric Mfg. Co. is proud to announce that live online voting for the "Nominate a Hero" promotion is under way at MillerWelds.com/hero. The "Nominate a Hero" contest has garnered hundreds of nominees over the past year. The Miller team has narrowed the field to the top 10, now it's up to our online visitors to vote for the top three Miller welding heroes.
The promotion is recognition of everyday welders who make a special contribution to their workplace and their local community.
The top 10 nominees include a 70-year-old California woman who was inspired to weld, a corporate professional who left behind his office chair for a torch, instructors who impact young lives everyday, a welder who ensures safety equipment is properly operating in Afghanistan, and others who qualified as welding heroes.
The contest has been an opportunity for Miller to highlight and celebrate all welders and the profession of welding. The three grand prize winners will be flown in to the Miller headquarters in Appleton, Wis., for a closer look at the company and will be awarded a Miller product of their choosing, in addition to Arc Armor welding apparel.
Voting began July 16 and will end at 5:00 pm CST on July 31. The final top three winners will be announced on August 13.
Companies in this article