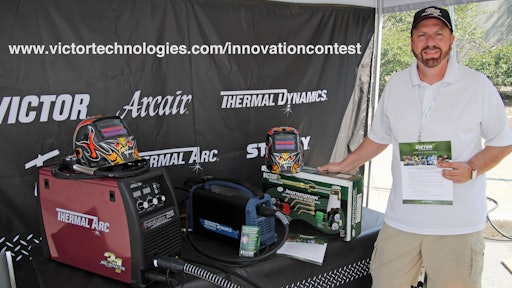 Victor Technologies announces its 2012 "Innovation to Shape the World" contest for students in welding and cutting programs at secondary and post-secondary schools. Three beginning (first or second year) students will win $250 by submitting a 500-word essay supporting the contest theme, and members on three intermediate/advanced teams will each win $500 for completing a welding and cutting project.
"The six schools associated with the winners will receive a comprehensive cutting, welding and gas control package valued at $4,000," said Martin Quinn, CEO, Victor Technologies. "The contest, along with our regular 35% discount to educational institutions, demonstrates our commitment to giving students and schools the inspiration and tools they need to shape their future."
The Innovation to Shape the World contest ends on October 30, 2012. Winners will be announced at the 2012 FABTECH Show in Las Vegas. Contest rules, entry forms and submission guidelines are available at www.victortechnologies.com/innovationcontest.
Victor Technologies made the announcement during the 2012 SkillsUSA National Skills & Leadership Conference in Kansas City, where more than 5,600 outstanding career and technical education students -- all state contest winners -- are participating in 94 different trade, technical and leadership championships, including cutting and welding.
Theme and Prize Details
The student essays and plans must respectively describe and demonstrate how cutting and welding equipment:
Shapes your character
Affects your daily life or the lives of others
Influences something about which you are passionate
Empowers your career as a professional, and/or
Enables the innovations that shape the world around them.
Each school that an individual beginner student winner or winning team in the intermediate/advanced category is attending at the time of entry will receive the following prize package:
One Victor Journeyman Welding & Cutting Outfit
One Thermal Dynamics Cutmaster 42 Air Plasma Cutting Outfit
One Fabricator 211i 3-in-1 Stick-MIG-TIG Welding Machine Kit
Two Tweco Weldskill 4-sensor auto-darkening welding helmets