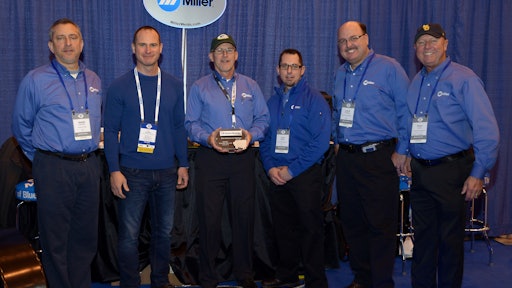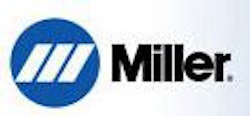 Miller Electric Mfg. Co., a leading worldwide manufacturer of arc welding equipment, has been named the 2016 Supplier of the Year by United Rentals. The equipment rental team from Miller recently received the honor at the annual United Rentals Supplier Show.
Award recipients are determined using qualitative and quantitative survey information, which includes input from all United Rentals' branches. Criteria for the award is based on numerous factors, including sales and technical support, training, warranty, procurement, logistics, best product quality and delivery, and the overall partnership.
"We are proud of our long-standing partnership with United Rentals, and it is an honor to be recognized for the outstanding quality, service and value that Miller provides," said John Swartz, business manager — Miller Rental Division. "Selecting the right welding equipment for the job helps customers be more productive and efficient, so they can complete jobs faster and ultimately be more profitable."
Miller was recognized by United Rentals specifically for the XMT 350 multiprocess welder with ArcReach technology. Miller-exclusive ArcReach technology allows welding operators to easily adjust welding parameters at the wire feeder without the need for a control cable. This significantly reduces the number of trips to and from the power source, reduces cord maintenance, and provides greater operator control — resulting in improved productivity, safety and quality.  
"We are pleased to present Miller with this award for their outstanding commitment to our partnership and delivering world-class products and support. Our suppliers are an important part of our continued success, and I want to thank Miller for their significant contributions," said T.J. Mahoney, United Rentals Inc., director of Equipment Sourcing.   
In addition to this recent honor, Miller was also the runner-up in 2014 for the United Rentals' Supplier of the Year award. United Rentals, based in Stamford, Connecticut, is the largest equipment rental company in the world.   
For more information on how ArcReach technology can help improve productivity, benefit safety and increase weld quality on the jobsite, visit MillerWelds.com/ArcReach.