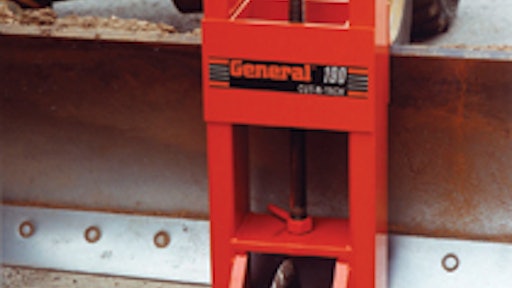 General Equipment 190M Cut-R-Tach
The 190M Cut-R-Tach rotary asphalt cutting attachment installs quickly on most standard motor grader moldboards and dozer blades.
Quick field installation
19-inch-diameter cutting blade
5 1/2-inch maximum asphalt cutting depth
Deere Worksite Pro Cold Planers
John Deere's Worksite Pro cold planers are compatible with John Deere 300 Series skid steers.
For milling asphalt and concrete surfaces damaged by cracks, frost heaves and potholes
Available in standard and high-flow models
Bobcat High-Flow Planer
The Bocat high-flow planer attachment is designed to mate uneven pavement surfaces, cut drainage in parking lots, perform street repairs and cleanup around larger milling machines.
Low maintenance
Side-cutting bits decrease drum binding in the cut and produce a vertical edge that improves the joint bond between a layer of asphalt and the existing layer
Hydraulic side-shift for planing close to walls and curbs
Zanetis Cold Planers
The Zanetis cold planer line includes models with 16- and 18-inch cutting widths and 8-inch cutting depth capability.
Optional lateral milling feature enables drum to be hydraulically rotated 90 degrees and laterally side shifted up to 46 inches for cutting corners, patches or utility cuts across roads without blocking traffic
Removable side cover for cutting flush against walls or curbs
Hydraulic tilt, depth and side shift control
Block and holder tooth system gives tooth tip a 5-inch clearance
Case/Bradco HP Series Cold Planers
These high-powered planers can take on high-density asphalt for milling potholes, leveling of frost heaves, cutting butt joints or removing pavement next to curbs and gutters prior to overlay.
Range from 16 to 40 inches wide
Cutting depths to 5 inches
High-flow hydraulics
In-cab control of depth, tilt and sideshift
Independent self-leveling depth adjustment allows precise lapping and taping cuts
Bradco Cold Planer from Paladin
The Bradco cold planer features independent self-leveling depth adjustment plates that allow for precise lapping cuts and taper cuts.
Planetary drive delivers high torque
High rear spoil clearance to prevent recirculation of material
Protective shields for hydraulic and electrical components
Angled spoil guard wheel design prevents wheels from riding up and over millings reducing rolling resistance and maintaining control over cut depth
Caterpillar Pickup Brooms
Caterpillar's pickup brooms sweep debris into an integrated hopper that's easy to remove and dump.
Available in two sizes with 98.4- and 86.6-inch sweeping widths
BP25 and BP22 operate on machine's standard-flow hydraulics
Unique suspension system eliminates need for support wheels and allows broom to float freely over work surface
Polypropylene convoluted brushes standard with optional poly/wire and all-steel wire available
Superior Tire & Rubber Cushotrac
Cushotrac track pads are now available through the Track Pad Express program, which guarantees the units are in stock.
Bolt-to-shoe and mold-on milling pads
Bolt-to-link and bolt-to-plate paver pads
Clamp-on track pads for excavators
MB Companies FLB Sweeper
The FLB sweeper attachment from MB Companies is designed for clean-up after milling operations.
Fits skid steers, compact wheel loaders, tractor loaders and backhoe-loaders
Low flow, hi-torque motor available
Bi-directional brush rotation
25-inch-diameter brush with 5-, 6- or 7-foot broom width
Atlas Copco PB 420 Breaker
The PB420 hydraulic breaker has a service weight of 795 pounds and is designed for use with skid steers, backhoes and mini-excavators.
For road construction and light demolition applications
Delivers 1,050 bpm and accepts a maximum hydraulic flow of 23.8 gpm at 2,175 psi
1,050 bpm
One-piece, field replaceable slip-fit bushing
Bobcat K-Series Loaders
K-Series skid steers (S130 to S300), compact track loaders (T140 to T300) and the A300 all-wheel steer loader feature the hydraulically driven SmartFAN cooling system, which senses operating temperatures and self-regulates to rotate the fan only as fast as needed.
Drive chain size upgraded to 120 HSOC for 38 percent more strength
2 inches added to lift height on large-frame vertical lift path loaders
K-Force hydraulic system added to medium-frame models
Additional undercarriage roller on compact track loaders allows for better ride quality and longer roller and track life
Stehr Compaction Wheels
These mechanical compaction wheels require no special hydraulic connections or separate drive system.
Attach using a quick coupler or mount directly onto carrier
Use carrier weight plus action and properties of boom and stick to produce high compaction forces
Roller-rim design also available with compaction feet
Generates lifts ranging to 1,000mm
Available in 280-, 400-, 600- and 800mm widths
New Holland SuperBoom Models
New Holland's SuperBoom skid steers feature nine models ranging from 14.4 to 74 net hp on the L190, with rated operating capacities from 600 to 2,800 pounds.
Long wheelbase
Easy to service and maintain; drive chains don't need routine adjustments
Oversized loader pins ensure long life in tough conditions and brakes are maintenance-free
Gehl 80-Series All-Wheel-Steer Loaders
The 280, 480, 480T (telescopic) and 680 feature "intelligent drive" technology, which automatically reduces speed and increases tractive effort when driving into a pile.
Four-wheel steering and one-piece chassis allow for added maneuverability, stability and tractive power
Operating weights from 7,055 to 12,015 pounds
Bucket capacities from 1.44 to 2.35 cubic yards
Rated operating loads from 2,590 to 4,365 pounds
EPA Tier II diesel engines range from 38 to 76 hp
Mustang Skid Steers
Mustang Mfg. Co. offers nine skid steer models.
1,050- to 3,675-pound SAE-rated operating loads
Ergonomic design
Case E Series Wheel Loaders
The new Case E Series wheel loaders — the 721E, 721E/XT and 821E — feature a new cab with a tilt steering column, infinitely adjustable seat, arm rest and control placement.
Tier-III certified Case engine
Four work modes
Electrically actuated rear hood provides easy access to the engine and all daily maintenance checkpoints
Three remote drains for coolant and engine and hydraulic oil
Cube-shaped mid-mount cooling module that supplies clean, ambient air to all coolers
Redesigned bucket for larger loads and easier penetration into the pile
Standard ride control
Cat 988H Loader
The 988H incorporates a 475-net-hp Cat C18 engine with ACERT Technology.
Fabricated box boom linkage with 11.8-, 12.7-or 13.9-foot booms
Standard Advanced Next Generation Modular Radiator, remote-mounted Electronic Clutch Pressure Control pressure taps and electronic fuel-priming pump
Optional Ride Control System, High Intensity Discharge lights, automatic lubrication and K-Series Ground Engaging Tools
Optional Product Link system
Exaktime Jobclock
The Jobclock is a rugged, weatherproof, battery-powered timeclock system designed exclusively for the construction industry.
Color-coded red and green keytabs for clocking in and out
Additional keytabs allow tracking of travel and other activity
Attendance records can be collected with a Palm Pilot, then downloaded to a PC in the office for easy review
Stores up to 10,000 records
Yamaha Generator
The YG6600DE from Yamaha has dual 120/240-volt AC output of 6,600 watts maximum, 6,000 watts continuous and over 18,000 watts of surge capacity.
Low oil shutoff
Brushless alternator
5.5-gallon fuel tank
Topcon CTS-3000 Series
Designed for construction layout and other jobsite positioning tasks, the CTS-3000 series features onboard software that simplifies staking.
Designed to carry grades, set or maintain control or perform layout quickly and easily
Reflectorless measurement capabilities up to 820 feet
Prism type range of 9,842 feet to a single standard size prism
Sirocco 3K HTI from Airstar America
The Sirocco 3K HTI from Airstar America is designed to replace traditional floodlights on light towers.
Glare-free light
Can be adapted to existing tower
Will illuminate 72,000 square feet, 360 degrees with 300,000 lumens
RMI Breaking Service
Resonant Machines Inc. (RMI) offers normal breaking rates of 10,000 square yards on average per day.
Quick and efficient steel removal
High percentage of rubble in the 2- to 4-inch range
Meets all states' rubblizing specs
Loads out 50-percent faster and up to 98 percent of truck capacity
Atlas Copco Cut-Off Saws
Atlas Copco cut-off saws feature a simple direct-drive design that provides consistent speed and torque and reduces maintenance requirements.
Hydraulic powered
Cuts through various materials, including asphalt, cement, brick and steel
14-inch blade provides 5.3-inch cutting depth
16-inch blade offers 6.3-inch cutting depth
Open cutting face and adjustable blade guard for easy operation
American Highway I.D. Locator
American Highway Products' I.D. Locator pops up after paving to easily identify utilities.
Developed from a new recyclable elastomer, which adheres to any surface and pops up after being paved over with up to 5 inches of asphalt
Ends time-consuming painting and measuring
Prevents inaccurate post-paving searching procedures
Replaces costly surveying and marking
Protects against expensive damage to covers and caps
Dispensing Technology Reflector Placement System
The reflector placement system from Dispensing Technology features an epoxy cartridge system that will meter mix and dispense rapid-set, two-component highway marker epoxy.
Adhere concrete bumper stops, raised pavement markers, delineator posts, concrete repair, dowel bars, etc.
Hotsy Pressure Washers
The 500 Series of hot-water pressure washers delivers rugged, yet affordable cleaning power.
Most models have 2.2 gpm with 1,300 to 1,500 psi
Oil-fired, LP or natural-gas fired
Direct-drive pump
Easy to maneuver
EZ Road Temporary Ramps
EZ Road's temporary butt joint ramps are designed for use at end-of-day paving, steel plates and milled butt joints.
Consistent safe ramp for drivers to use
3-foot sections interlock for any width of road
Two lanes installed in 20 minutes by one person
Ramps have expected life of over 50 uses
PSC Solar Message Centers
Precision Solar Controls' (PSC) Solar Message Centers are available in three models with various options and accessories available.
Powered by solar energy and using LED technology allows the message to be more clearly legible from greater distances
500 messages can be stored in unit, while 250 of them can be programmed by users
Ingersoll Rand BL2000 Balloon Light
The BL2000 balloon light is a self-inflating illumination unit that diffuses a strong, glare-free light over a 360-degree area.
43.3-inch diameter
Stands 7.5 to 15 feet tall with optional mounting stand and covers up to a 15,000-square-feet radius
2,000 watts of power supplied by a 10-amp, 230-volt source for one lamp or 20-amp, 110-volt source for two lamps
Wind resistant up to 63 mph
Mi-T-M Compressors
Mi-T-M manufactures a line of stationary 30-gallon air compressors.
5- to 7.5-hp industrial electric motor or 8- to 13-hp gasoline engines
Two-stage compressor with splash-lubricated cast-iron crankcase and cast-iron cylinder
14-gauge powder-coated two-piece belt guard
Kaeser Mobilair Compressors
The Mobilair portable air compressor line includes a range of models with outputs from 45 to 950 cfm.
Select models offer variable pressures from 70 to 205 psig
Aftercooler and filtration package options available
Standard features include Sigma Profile airend, heavy-duty diesel engine and instrument and lighting package
Citrus King
Citrus Depot offers Citrus King tar and asphalt remover.
Non-toxic, biodegradable and 100-percent natural
Quickly and easily cuts through heavy tar, asphalt, black mastics, adhesives, grease, oil and other hard-to-remove substances
Champion C80C/C86 C Motor Graders
The C80 C and C86 C feature a redesigned front axle that provides 50 degrees of steering angle left and right.
25-foot straight frame turning radius with a 19-foot radius when fully articulated
Box-type front axle design allows a 22-inch ground clearance
Spherical bearings on front axle and articulation cylinders provide increased service life.
21-inch-high moldboard offers a full 4-foot blade lift stance for increased featherability
Broce Brooms
Broce Mfg. offers a variety of brooms delivering comfort and performance with more standard equipment.
Multiple engine options available
Joystick controls for brush functions
Swing-out oil cooler
High-capacity fuel and hydraulic tanks
Front hydraulic disc brakes
Water Maze Wastewater Recycling System
Water Maze introduces the CLB system that treats waste streams generated in an asphalt cleaning operation using advanced biotechnology for recycle or discharge.
Modular components to be configured to the customer's specific needs