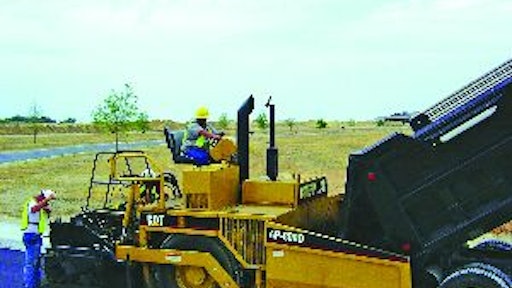 CONEXPO-CON/AGG
March 11-15 Las Vegas
CONEXPO-CON/AGG - North America's largest construction tradeshow - will have plenty of new equipment and technology on display for the asphalt industry this March in Las Vegas. Here's what you'll see at the show:
125,000 construction industry professionals
2.2 million net square feet of exhibit space with more than 2,000 exhibits
120 education sessions, certification programs and conferences
On the following pages are some examples of products you'll be able to see at the show. For more information on CONEXPO-CON/AGG, visit www.conexpoconagg.com.
Caterpillar AP-800D Asphalt Paver
The AP-800D has a Caterpillar 3054C turbocharged diesel engine that generates 130 hp at 2,200 rpm.
Hydrostatic propel system with four speed ranges
Hydraulically adjustable augers
Booth #G-140 and N-20076
Crusher Rental & Sales Crushing Systems
Crusher Rental & Sales feature the CrushBoss horizontal shaft impactor as well as portable and stationary plants.
Production ranges from 75 to 2,000 tph
Great for recycling
Booth #C-5656
Hypac C766D from Bomag
The Hypac C766D tandem drum roller has been redesigned to offer improved operator comfort, superior performance and greater economy.
Sliding/swivel seat
4,000 vpm maximum frequency and infinitely variable frequency
ECO-Mode automatically saves fuel and reduces noise
Booth #C-5181
Extec E7 Mobile Screening & Stockpiling System
The Extec E7 mobile screening & stockpiling system was developed to address customers' needs, including screening heavy overburden at the quarry face?and pre-screening/scalping prior to being fed into a crusher.
Heavy-duty hopper adjusted for length and loading height, capacity up to 10 cubic meters
Impact bed supports rear conveyor, which prevents roll-back or lateral movement of material
?Booth #C-6157, C-6345, S-512
Komatsu BR580JG-1 Mobile Jaw Crusher
Komatsu's BR580JG-1 mobile jaw crusher features an operating weight of 108,000 to 112,440 pounds.
Patented HydrauMind fully hydraulic drive system
High speed large capacity conveyor belt with a belt width of 42 inches, belt speed of 394 fpm and discharge height of 9 feet 10 inches
Conveyor tail elevation system provides ground clearance for high maneuverability
Vibrating grizzly feeder moves material elliptically to effectively separate and feed evenly
Jaw protects itself by allowing the locking cylinders to fully open the discharge port for easy removal of clogged material
One-touch operation for discharge setting adjustment
Booth # 1009
Terex CR662RM RoadMix
The 50,800-pound Terex/Cedarapids CR662RM RoadMix switches from material transfer vehicle to paver in a matter of hours.
As a paver, unit offers a 16.7-ton receiving hopper which can be increased to 25 tons with hopper insert; Smartrac; three different screed options; and paving widths reaching 30 feet at depths up to 12 inches
As an MTV, unit features the Remix Anti-Segregation System with two sets of two counter-rotating augers that reblend 100 percent of the asphalt; 18-inch-wide rubber-track drive; the ability to be used on every paving lift, including the base course; and a swivel sensor that senses mix height in the paver's hopper and automatically stops and starts the hopper augers and transfer conveyor system as needed
Booth #G-200
Allmand SIS 1250 Super Illumination System
Allmand's SIS 1250 Super Illumination System
features 150,000 lumens per lamp.
Whiter light for better visibility
Improved color recognition
Booth #G-184
Keith V-Floor Unloading System
Keith offers unique "V"-shaped floor slats to absorb high impact forces.
For extremely abrasive materials
Provides safe, efficient and versatile horizontal unloading
Low in maintenance and easy to operate
Unloads or loads in minimum time
Available for both mobile and stationary applications
Booth #C-4513 and S-594
Volvo G946 Motor Grader
The G946 motor grader is powered by a 195-?to 235-hp engine.?
Base operating weight of?38,140 pounds?
Volvo Proportional Demand Flow hydraulics to work with Automatic Blade Control systems
Powerful direct-drive circle turn systems and Volvo THE transmissions with efficient shuttle shift
Industry's first 11-speed grader transmission with Autoshift
Exclusive Creep Mode
Booth #Indoor N-2059; Outdoor G-134
PHCo Patch King Asphalt Patchers
Process Heating Co. offers a line of asphalt patchers used for patching with either hot, warm or cold mix asphalt.
Designed to keep mix warm all night ready for use the next day with minimum waste
Available in three models: the slip in PK-30H to PK-80H; the rotary auger models PK-35HSD and PK-40HSD; and the trailer version model PK-30T
Uses electric power
Exclusive "Lo-Density" heat translates into even heat distribution preventing damage to the mix
Tac-Kin emulsion storage tank is also available
Booth #C-4836
American Pivoted Turnbuckle Manhole Riser
American Highway Products quick, powerful expanding manhole riser features a 1-inch diametric variance (+/- 1/2 in. adjustment on diameter from mean diameter).
3/4 inch and up rise available in 1/4-inch increments
Will not break from installation forces or uneven manhole frame
Turnbuckle linkage ensures a pressed in bearing fit when installed
Booth #C-4375
VSS Macropaver
The VSS Macropaver 12B features outputs of up to 4 tpm.
Hydraulic, fail-safe automatic sequencing
Magna gun-barrel designed double shaft pugmill
Centralized monitoring systems to easily visualize all materials information
Booth #C-4731
IronPlant Online Auction
IronPlanet can be used for buying and selling used heavy equipment and trucks.
Provides detailed inspection reports on hundreds of items and guarantees equipment condition with the IronClad Assurance
Facilitates the sale and purchase of each item on its website to provide a secure transaction
Booth # C-5522
Telsmith SBX Cone Crusher
Three models are available: 44SBX (300 hp), 52SBX (400 hp), and 57SBX (500 hp).
Engineered with new internal components and crushing chamber profiles that allow it to accept larger feed
For secondary crushing circuits that once required larger crushers
Dynamic Adjust system enables remote adjustment under load
Maintenance-free hydraulic Anti-spin system extends manganese life
Designed for compatibility with any fully automated plant and can also be combined with TRAC 10
Booth #C-5135
Leica Geosystems PowerBlade
The PowerBlade machine control system is designed to make precision laser-based grading available for every machine and budget.
Easy to use MCP-700 control panel and MLS700 laser sensor with bright LED grade displays
Various hydraulic options also available
Simple, easy-to-use laser-based grading system
Flexible to handle all types of machines and blades
Optional power mast for easy grade adjustments
Proportional valve drive for maximum performance
Ideal for land-leveling applications
Booth #S-16805
John Deere 313, 315 Skid Steers
The 45-hp 313 and 315 radial-lift skid steers feature the same unified design as?other 300 Series models,?as well as?optimum stability, visibility and serviceability.
Operating capacities of 1,300 and 1,500 pounds
Bucket breakout force of 3,300 pounds
59 inches wide
Heavy-duty drive chains never need adjusting
360-degree visibility
Booth #N-1541
Telsmith PA6060 Primary Impact Crusher
The PA6060 primary Andreas-style impact crusher has a 46"?x 60"?feed opening to tackle large quarried stone or tough concrete recycle material.
Solid-type sculptured rotor for higher inertia and greater blow bar backing support
Hydraulic tilting feed plate eliminates bridging
Automatic apron reset continually returns to defined settings
Can be mounted on portable plants or placed into fixed locations with truck-dump feed arrangements
Booth #C-5135
Astec Phoenix Phantom Burner
Astec's Phoenix Phantom burner is designed to meet the lowest emission requirements.?
Advanced mixing technology and the latest tehcnological innovations deliver the absolute minimum gaseous emissions available today
A multiple parallel turbulent tube mixer achieves near perfect mixing of fuel and air for low NOx and CO emission
Highly efficient variable speed blower controls provide damper-less air flow control
Booth #C-5157 and C-6335
Terex Pegson Crushers
Terex Pegson offers several
crushers.
XA750 jaw plant for larger quarry and recycling applications; modular hopper/feeder section with live pre-screen that is removable for transport; one-piece hydraulically raised/lowered product conveyor; extended dirt/fines conveyor; Jaques 55" x 35" jaw with hydraulic adjustment system
XH250 horizontal shaft impactor; for smaller recycling and quarry applications; underpan feeder for main-belt protection; hydraulically raised/lowered main conveyor; full tunnel protection over conveyor; direct drive through HFO clutch with soft start; two-stage grizzly feeder with underscreen
XV350 vertical shaft impactor; features Canica 2050 vertical shaft impactor on a revised 1300 Maxtrak chassis; can be fed from Maxtrak range of cones; countershaft drive accommodates conventional V-belt drive and HFO clutch; rotor speed range from 830 to 1,750 rpm
Booth #G-200
Spectrum Equipment Management Modules
Modules include Equipment?Control, Equipment Tracking, Fixed Asset and Preventive Maintenance.?
Equipment Control enables a construction company to charge equipment to jobs and provides profit reporting
Equipment Tracking helps personnel track all movements of equipment, tools and inventory
Fixed Assest tracks assets and calculates depreciation amounts for financial reporting purposes
Preventive Maintenance streamlines the process of tracking and scheduling preventive maintenance and repairs on equipment
Booth #S-10423
Powerscreen Chieftain 1700 & Horizon 5163
Powerscreen will be exhibiting several screening solutions.
Horizon 5163 scalping and screening plant: designed to handle materials up to 10 inches; can produce up to 600 tph of high specification products; works well in closed-circuit primary, secondary and tertiary crushing setups
Chieftain 1700 dry screen: highly mobile, two- and three-deck screen; can separate up to six products; adjustable high amplitude two-bearing screen action exposes material to varying amplitudes and G forces; hydraulic screen angle adjustment varies the material travel rate over the screen deck; four integral hydraulically folding stockpile conveyors eliminate need for any lifting devices
Booth #G-200
Weber CR 3 Hd & CR 3 Diesel
Weber's diesel rammers feature lower hand/arm vibrations, reduced noise level through protection covers, and?adjustable handlebar.
Optimized air intake system with cyclone filter to protect engine against dust and premature wear
Equipped with the compaction control system from Weber MT (COMPATROL)
Operating weight of 448 to 522 pounds; operating width of 20 or 24 inches with extension plates
Honda GX 270 (gasoline 9 hp) or Hatz 1 B 20 (diesel 4.6 hp)
Working speed up to 66 fpm
Booth #S-629
Vulcan Truck Weighing System
Vulcan On-Board Scales truck weighing system complements an expanding line of on-board weighing systems.
Maximize every load while staying legal
Save time loading, weighing and re-loading
Display either gross/net weight or axle weights
Accuracy typically within 1 percent of gross vehicle weight
Booth #S-12221
Superior Variable Pitch Idlers
Designed to protect belts against sharp transitions, Superior's variable pitch idlers are manufactured with adjustable outside rollers that adjust from 5 to 35 degrees depending on the application and transition point.
Most effective when used at terminal belt transition points or on convex bends to help tighten the sealing system
Available both inline and offset in CEMA C, D, and E ratings
Feature Superior's SpinGuard seal technology
Roll diameter dimensions range from 4 to 7 in. with belt widths of 24 to 96 in.
Booth #S-670
Terex AL8000 HT Light Tower
The AL8000HT light tower features 28 feet of vertical height, 20 feet of horizontal outreach and 359 degrees of powered-boom rotation
Hydraulic-powered mast offers a full range of motion to position light where it's needed.
Light bar tilts 180 degrees vertically
Each light also pivots in two perpendicular directions (front-to-back and 360 degrees side-to-side) to position the fixtures in a precise direction
Comes standard with four 1,000-watt lights, a 13.6-hp Kubota engine producing 10 kW of electrical power and a 30-gallon fuel tank
Booth #4125
Grasan Aggregate Crushing Systems
Grasan offers custom-design capabilities in road-portable, pit-portable and stationary equipment and systems for crushing, screening, handling and storage of aggregates; recycling of concrete/asphalt rubble; conveying and stacking; and special applications in bulk material handling and processing

Can interface with an existing operation or provides a completely independent facility
One of Grasan's newest developments is a line of large, track-mounted primary crushing plants for high-production aggregate applications
Booth #C-6013
Vögele Vision Series
Vögele America introduces its next-generation asphalt pavers - the Vision Series - to North America.
Includes the tracked Vision 5200-2 and the wheeled Vision 5203-2
Unparalleled all-around visibility without turning
Tier III engines
On wheeled unit, three drive versions are available
Self-diagnostics built-in
Independently operated hopper wings
Augers and conveyors are reversible
Booth #S-500
Wirtgen W 120 F Cold Milling Machine
The 280-hp W 120 F mid-sized asphalt cold milling machine has a 47.2-inch milling width and 12.6-inch cutting depth, making it suitable for removing complete asphalt courses to their full depth.
Optional Flexible Cutter System
Incorporates mechanical milling drum drive, hydraulic all-wheel travel drive system and hydraulically folding supporting wheel
Front-end loading of RAP via a two-part conveyor system
Optional Level Pro automatic leveling system
Booth #S-500
Hamm Compact Asphalt Rollers
The HD 8 VV, HD 10 VV, HD 10 C VV, HD 12 VV, HD 13 VV and HD 14 VV offer compactive effort in a small package for commercial or roadbuilding applications.
Drum widths from 30 to 54 inches
Wider compaction width when operated in offset mode
VV stands for "vibration front, vibration rear" where both drums offer vibration with the capability of vibration running in the front drum only, in the rear drum only, in both drums or no vibration
Booth #S-500
Libra Enterprise Information Server
The Enterpise Information Server from Libra Systems is designed for plant-to-office integration.?
Creates a seamless gateway bewtween your office and production facilities
Allows authorized personnel real-time access to company-wide data anytime, anywhere
Online decision support
Booth #C-4745
ADM Milemaker Asphalt Plant
The ADM Milemaker asphalt plant produces 160 to 425 tph.
Boasts the most fuel-efficient, mix-design flexible and productive plant in its class
Dual-drum plants available in portable, relocatable or stationary versions
Counterflow technology operates separate drying and mixing zones to achieve the maximum level of heat transfer and fuel efficiency
Booth #S-700
Ashland CS18-HD Earthmover
The 25,000-pound,?18-cubic-yard carry-all scraper from Ashland?is suitable for high-horsepower rubber-tracked or wheeled tractors.
23.5 x 25 E3/L3 12-ply tires, lower ground pressure and longer rolling radius for excellent flotation and ease of operation in marginally wet or clay soils and sandy loams or dry topsoil
Higher mounted lift cylinders to keep dirt and rocks out
Tires set away from bowl to allow dirt to flow through to the ground and prevent tires from plugging or skidding
Designed to keep loose material from escaping around the sides while directing it into a 12-foot-wide cut
Booth #N-2269
Bergkamp EMCAD System
Bergkamp's EMCAD - Electronic Mix Control and Diagnostic - system allows contractors to evaluate production and make adjustments while machine is working
Simplifies material calibration and shows current and average material ratios, total material used and material rates
Assists with onboard control troubleshooting
For M310 slurry seal/microsurfacing paver
Booth #S-544
Exaktime PocketClock/G
Exaktime's PocketClock/G turns your Windows PDA into a GPS-enabled time clock.
Uses cutting-edge GPS technology to record the location of your workers as they clock in and out
Transfers attendance and location records wirelessly via the JobClock.net service to your office computer
Ensures that your workers are on the job - and at the job
Booth #S-10932
Kleeman Crushing Plants
Kleemann Inc. will exhibit two large but versatile mobile aggregate processing plants, one based around a primary impact crusher, and one around a primary jaw crusher.
MOBIREX MR 130-Z closed-circuit machine has a fully independent two-deck pre-screen before the primary impact crusher box; material is dropped onto a feeder, scalped over the independent pre-screen and through an onboard screen after the crusher, from which oversize is recirculated back into the crusher
MOBICAT MC 120-Z features a 48" x?32" jaw crusher and a fully independent double-deck pre-screen with a feeder under the crusher; machine is powered by an onboard fuel-efficient diesel electric generator and weighs 145,000 pounds
Other machines to be displayed include: the MOBIFOX mobile secondary crushing machines; the MOBICONE mobile secondary crushing machines; and the MOBISCREEN mobile screening machines
Booth #S-522
HCSS Integrated GPS Feature
HCSS has launched an integrated GPS feature that significantly expands the capabilities of The Dispatcher resource management software.
Integrated GPS feature shows current and previous equipment location, speed of operation and meter readings of how long the equipment has been running
Package includes the GPS receiver, data service coverage, air time and integration with The Dispatcher software
Booth #S-10323 and #C-4263
Takeuchi TL120
The TL120 features a tipping load of 3,549 pounds, with a 4,821-pound bucket breakout force in the bucket cylinders or 5,042 pounds in the lift arm cylinders.?
52-hp turbo diesel engine?with emergency engine shutdown system
High sprocket planetary drive system provides efficient speed reduction and torque amplification, while eliminating drive chains, chain cases, axles and hubs
Pilot-operated joystick controls provide precise fingertip control of loader and travel functions
59.5-inch operating width and 126.8-inch length allow for easy transport
Booth #N-2659
IES Maximus Series
These portable, automated wheel wash systems are engineered specifically for the construction industry.
Ideal for eliminating trackout at project sites where excavation is not allowed or desired
Entirely above-ground system
Fully automated, closed-loop water recycling and solids separation process
One- and two-tire revolutions of cleaning in standard models; custom built units also available
42-inch-wide wash elements flex the tire tread open to allow high water volume flow to flush tires clean
Booth #983 Blue Lot
Heatec Heating & Storage Equipment
Heatec designs, manufactures and services heating and storage equipment for hot mix asphalt plants and water heating equipment for ready mix concrete plants
Products include: Firestorm direct-contact water heaters, asphalt tanks, hot oil heaters, fuel tanks, fuel preheaters, polymer blending systems, asphalt meters, califbration tanks, and?additive tanks
Booth # C-5157
Screen Machine Spyder 516T
The Screen Machine Spyder 516T portable tracked screening
plant offers massive unibody structure deep frame design.
11-cubic-yard hopper
Patented Smooth Start technology
Full remote control operation and movement
Booth #C-6523
Work Area Protection Nite Lite
The Nite Lite portable work zone light provides a non-glaring white light for all moving and static nighttime construction projects.
Microprocessor-controlled electronics ignite the 400-watt Pulse Start Metal Halide lamp
Draws only 4 amps at 120 volts AC from a 60-Hz electrical source
Light output rated at 42,000 lumens for lighting up to a 15,000-square-foot area
Booth # S-11039
Coneqtec AP Cold Planers
Coneqtec's AP cold planers feature high torque, direct-drive motors.
Fastest cutting drum head available (no remilling)
Chews up the road into chunks, not powder
Skid steer weight placed directly on drum
12- to 48-inches wide
Booth #G-180