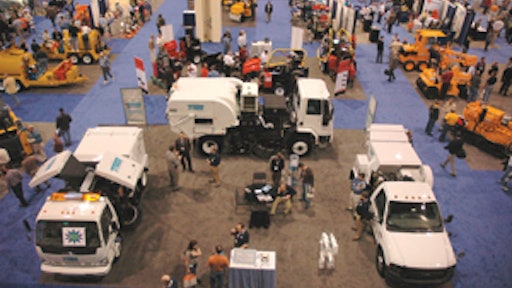 Cygnus Business Media names ForConstructionPros.com publisher
Cygnus Business Media has appointed Michael Keville as publisher of ForConstructionPros.com, a web portal site for the construction industry. Keville will oversee the site's ongoing development as a primary source of news, business management and product information targeted specifically for construction professionals.
He most recently served as vice president and co-owner of Buck Bomb Technologies, a cutting edge scent technologies company focused on the hunting industry. He has also served as director of business development and advertising for Reed Elsevier Publishing in Washington, D.C., and was responsible for selling advertising and interactive solutions for its published products.
Greg Greene has also joined Cygnus Business Media as Internet sales manager, ForConstructionPros.com. Greene was formerly the publisher of Sport Focus Magazine, based in the Washington, D.C., metro area.
In addition, Georgia Rose Krause has been named the editor in chief, ForConstructionPros.com. Krause began her career in media with the Chicago Tribune. She has been working in construction publishing since 1989.
Krause's experience in digital communications includes the creation and management of Contractor Dayta, the first broadcast magazine for contractors. After seven years as content and editorial director of Contractor Dayta, she became a frequent contributing editor to construction association magazines. She has studied Internet Law at Chicago Kent Law School and Corporate Business Communications at Loyola University Chicago.
ForConstructionPros.com is a Cygnus Business Media web portal designed to specifically address the information needs of construction professionals. ForConstructionPros.com provides visitors with the latest editions of the company's market-leading construction publications, including Equipment Today, Concrete Concepts, Pavement, Asphalt Contractor and Rental Product News, as well as daily updates on news, product information and tips to improve productivity and business acumen.
Modified Asphalt Paper Available
Heatec offers technical paper as a free download
Heatec has made its technical paper T-133, titled Heating, Mixing and Storing Modified Asphalt, available as a free download in pdf format from the company's website, www.heatec.com.
T-133 covers how PMAC (Polymer-Modified Asphalt Cement) is mixed, what type of equipment is needed, and how heating and storing techniques differ from virgin asphalt cement. The paper also covers how SBS (Styrene-Butadiene-Styrene) and GTR (Ground Tire Rubber) systems work.
Topcon Offers Roadshow
Full slate of seminars, demos to be presented
From Alaska to New Hampshire and from Florida to California, the 2006 Topcon Positioning Systems (TPS) Technology Roadshow starts its third year of educational seminars and hands-on demonstrations for surveying, GPS and machine control operations.
Throughout the year, TPS representatives in conjunction with Topcon dealers, will host regional seminars designed to illustrate:
How new technology can increase jobsite productivity and profitability
The impact of automation on the modern construction site
Breakthroughs in accuracy and jobsite productivity using satellite systems
Robotic technology and how it is used on jobsites
The latest news on space-based navigation and multi-satellite signal technology
Other specialized topics can be added to any Technology Roadshow presentation as requested.
Part of the show will include a question and answer session by technology experts from sponsoring dealers. Through a presentation that contains application movies and animation, the basic and advanced concepts of satellite navigation and positioning will be covered, as well as imaging and laser technology. Each show wraps up with hands-on demonstrations of products.
New Website Available
Site features topics from pavement construction to maintenance and rehab
A world of pavement information is now available with one click at www.fhwa.dot.gov/pavement. The Federal Highway Adminstration's (FHWA) new topic-based website offers information on everything from pavement design and construction to maintenance and rehabilitation.
Also featured are listings for publications, software, upcoming conferences and events, and workshops and training. Additional options for users include looking up technical guidance and technology transfer resources, as well as information on pavement research.
Roadtec Offers Free Inspections
Nine rebuild centers now operating
With the recent opening of the Orlando, FL location, nine Roadtec rebuild centers are now operating across the United States. Pavers, milling machines, material transfer vehicles and soil stabilizers of any brand can be repaired, upgraded or completely rebuilt at these locations or off-site.
Roadtec is offering free inspections of older equipment to help owners evaluate whether rebuilding is the right choice. Robert Cates, manager of the Rebuild Program, says, "Owners might be able to get many more hours of profitable run time out of their older equipment. We will evaluate their machine for free and make suggestions for repairs and rebuilding according to the customer's business goals."
Roadtec Rebuild Centers are located in Markle, IN; West Monroe and Shreveport, LA; Chattanooga, TN; Des Moines, IA; Grand Rapids, MI; Las Vegas, NV; Muncy, PA; and Orlando, FL.
In related news, Roadtec broke ground in early 2006 on a 56,000-square-foot facility expansion at its Chattanooga, TN site.
The expansion is designed to help meet increased product demand and streamline production according to the "lean manufacturing" model.
The company also announced it is beginning production of a soil stabilizing machine in late summer 2006. The first Roadtec soil stabilizer will be a 700-hp machine featuring an 8-foot 6-inch cutter housing and a Tier III Cat engine.
AEM Produces Ssafety Manuals
Asphalt production plants, pavers highlighted
The Association of Equipment Manufacturers (AEM) has available a safety manual designed for machinery owners, operators, maintenance personnel and others working in hot mix asphalt (HMA) production facilities (batch/drum mix).
Content includes safety tips concerning the workplace and equipment, important definitions and general operation/maintenance guidelines. Special operation and maintenance precautions are also covered, including areas such as transporting facilities; raw materials handling and storage; cold feed bins and conveyors; burners; dryers/drums; exhaust systems; ductwork; primary collectors; baghouses; silos; hot liquid storage and more.
AEM also offers safety manuals designed for operators and maintenance personnel of asphalt pavers. The manual is published in an illustrated format of sensible "dos and don'ts" featuring typical daily situations on the jobsite.
For more information on either the asphalt production or paver safety manual, please visit www.aem.org.
Coming soon: Rrobot Road Repair
Patent granted for new technology
A U.S. patent has been granted to William Zurn, a technologist with a high-tech product marketing background, for a robotic road repair machine. Although in the early stages, this new development promises automated repair of road surfaces.
Comprised of a self-propelled wheeled machine with identical slots designed to receive work modules, the technology analyzes and repairs surface imperfections in road surfaces and sublayers. The automated vehicle then completes multiple repair tasks as it moves over the road surface.
Construction Spending Shows Growth, AGC Economist Says
Materials prices, availability remain a concern
"The Census Bureau report on construction spending shows the industry hitting on all cylinders with strong, balanced growth," said Ken Simonson, chief economist for The Associated General Contractors of America (AGC). Simonson was reacting to a Census Bureau report that construction spending in February was at a record seasonally adjusted annual rate of $1.19 trillion, up 0.8 percent from January and 7.4 percent from February 2005.
"Not only was the overall total up strongly from a year ago, but all major segments showed similar growth," Simonson commented. "For the first time since the 2001 recession, private nonresidential construction led the parade with a 9.6-percent increase from the year-ago pace. Private residential construction was 7.1 percent higher and public construction, 6 percent higher.
"The year-to-date, or two-month, totals actually provide a more meaningful comparison, given the extremely mild weather in January and more seasonal conditions in February," Simonson added. "On a two-month basis, there were several segments that showed exceptional growth. Shopping center construction leaped 61 percent, after swelling nearly 40 percent in 2005 and 25 percent in 2004. Hospital construction grew 22 percent, while manufacturing and commercial warehouse construction climbed 20 percent. The previously lackluster office segment was up 18 percent.
"Both single- and multi-family residential construction shot up 14 percent in the first two months of this year compared to the same span of 2005," Simonson noted. "Home sales may be weakening but builders still have a big enough backlog of unbuilt houses and condos that residential construction spending should hold up for a few more months.
"On the public side, there were double-digit increases for educational, sewage and waste disposal, amusement and recreation, public safety, and water supply construction," Simonson said. "That reflects the upturn in state and local tax receipts, which will keep public construction spending pumped up all year.
"The biggest worries are materials costs and availability," Simonson concluded. "As AGC's latest Construction Inflation Alert documented, numerous materials are going up in price much faster than are consumer items or most producer costs. An agreement with Mexico to allow cement into the United States for a duty of $3 per metric ton instead of the previous $26 has taken effect, and that may provide limited relief for some regions. But I fear cement shortages will reappear this spring. And by fall, there may be shortages of liquid asphalt. Several refiners have announced they plan to curb asphalt production as they produce lower-sulfur diesel fuel."
For AGC's Construction Inflation Alert and more detailed information on the Mexican cement agreement, visit www.agc.org/economics.
Companies in this article