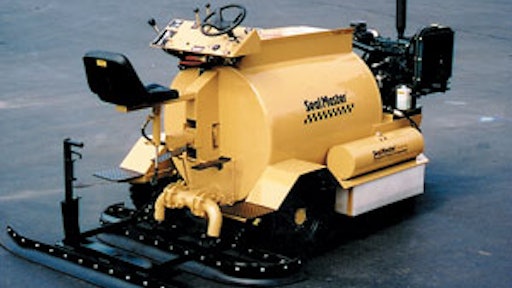 SP Series Sealcoating Machines
Round tank design with full-sweep agitation
Available with sand pumper material pump for dual capabilities, spray and squeegee
200- and 300-gal. capacities
Rear wheel drive
Sealmaster
350 Econo Trailer
High-density polyethylene tank
2-paddle, manual agitation; hydraulic optional
1-in. dual-diaphragm pump w/ filtered air supply line
75-ft., ¾-in., 300-psi hose; 6-ft. wand
Equipt Mfg., Inc.
SC300 Seal Coater
300-gal. ride-on machine
Contours of tank bottom conform to agitator
Three-wheel design for direct drive to rear wheels
24-hp Honda V-twin engine
Layton Mfg. Co.
SR-700 Trailer w/ Blower
2-in. Wilden pumps
3-gal. filter pots
Hannay hose reels with 100 ft. of hose
Rubber wipers keep tank inside clean
Seal-Rite
Tow Boy Seal-A-Lot
Adjusts from 3- to 8-ft. wide
Easy clean up
Heated tank available
Will smooth out any type of liquid
Lets you decide how thick or thin to apply the liquid
Tow Boy Co.
Power-agitated Tanks
2-in.-diameter solid shaft
Truck or trailer mount
Robin 6-hp industrial engine
Hydraulic agitation with forward/reverse
3-in. product discharge line and valve
Pacific Coatings, Inc.
ESSP 550 Trailer
550 gal.
ESSP 50- or 100-gpm piston pump
16 lbs. of sand per gal. capability
Heavy-duty agitator drive with infinite forward/reverse
Hand wand and 75 ft. of hose
Neal Equipment LLC
DPS550T Applicator
300, 550, 1,000, or 1,500 gal.
Use with coal tar sealers
Skid- or trailer-mounted
Two-stage, tank-mounted air compressor with 30-gal. tank
9-hp Honda engine
1½-in. cast iron diaphragm pump
Hydraulic, full-sweep agitation
Marathon Equipment, Inc.
Seal Coat Sprayer
5.5-hp Honda engine
10-gal.-per-min. pump
Spray wand with 100-ft. hose and tip
Fulflo relief valve
4-in.-diameter filling hole
1-in. drain pipe under tank MTL
Fabrication/Montreal Sealer
Companies in this article