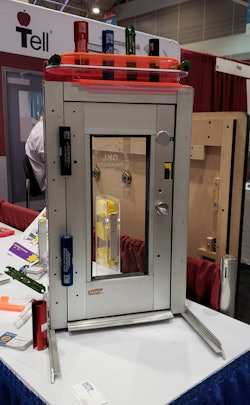 Gigi Wood
Back in the 1980s, Steve Goldstein invented what is now known as the Hinge Doctor. Since coming up with the original model, he has patented it, improved it and sold more than 110,000 to door hardware professionals around the world.
"We came up with the Hinge Doctor, which will repair a sagging door in 15 seconds and it fits in your shirt pocket," says Goldstein, CEO of GKL Products, Inc., which sells the Hinge Doctor and other door hardware tools. "You can use it over and over again."
The Hinge Doctor fixes sagging HA1, HA3 and HA-4 commercial doors, often found in the interior of office buildings and apartment complexes, among other buildings. When a door sags, it's often because the outer door hinge has warped. To use the Hinge Doctor, simply place the tool over the door hinge and tighten with a crescent wrench until the door is repaired.
Before the Hinge Doctor was available, door and hardware professionals would fix a sagging door by creating a larger hole in the door frame for the door latch.
"All of the weight of the door and of the hardware is on the hinge," Goldstein says. "So sometimes the door starts to sag. The first thing, as a locksmith, that I would do, back in those days, would be to file this hole so that the door would close and latch."
The improved Hinge Doctor has slats for a crescent wrench. The slats were added in 2019, when the Hinge Doctor patent was about to expire. Goldstein added the slats and renewed the patent. As he explains, "These slats are for a crescent wrench. You apply a crescent wrench, move it toward the door lock, it lifts it up and pulls it back and you're done."
Goldstein shared the story of how he came up with the idea for the Hinge Doctor at DHI ConNextions in New Orleans, which took place Oct. 20-21.
"Actually, I did a good deed and that's how the Hinge Doctor came about," he said. "I ran into some guys at a job site and it turns out that the guy's father had been my landlord at my business in Fremont, Calif., and I had given his dad a tool for the new locks that Schlage had come out with in the 1980s. And he lost it or wore it out, so I went out to my truck and got a brand new one and gave it to him. He came back and showed us what is now the Hinge Doctor. We sell it for repairing doors, that's the primary function."
Watch the video for the whole story.