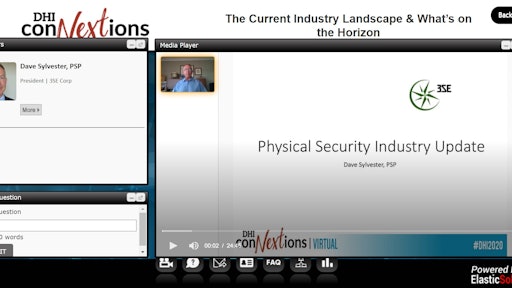 Dave Sylvester, president of 3SE Corp, gave a presentation at the DHI conNextions 2020 virtual event about the structural changes in the physical security industry, M&A drivers, optimal outcome and more. Sylvester focused on the current social climate as well as the presidential election and how that affects the commercial door and hardware industry.
Optimal sale process
With the current economy, Sylvester suggested there will be an increase in installation, pre-installed hardware, and increased division 28 competencies.
Current assets
Cash

Accounts receivable

Prepaids

Inventory
Less current liabilities
Accounts payable

Other current Liabilities
Short
-
term
predictions
Manufacturers rebounds from Q2 slide

Channel backlog carries thru Q2 2021
Constructions slows in 2021
Long
-
term predictions
COVID driven applications and trends

Electronic access control demonstrates consistent growth

Software will drive more brands decisions

Automatic doors growing with security door applications