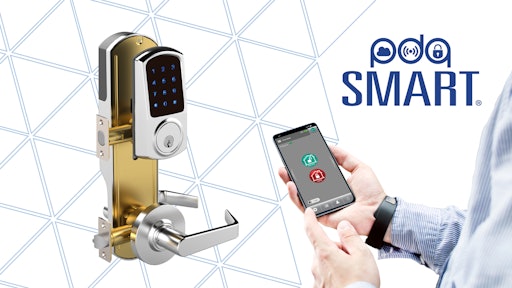 PDQ Locks
PDQ introduced an Interconnected lock added to the pdqSMART Stand-Alone and Networked Access Control device lineups. The new interconnected lock combines the added security of a deadbolt and the easy egress of a lever, linking them together for simultaneous action, a perfect solution for multi-family, senior living, and student housing applications. The new lock expands the smart device portfolio which includes Grade 1 and Grade 2 cylindricals, Grade 1 mortise, heavy duty deadbolt and exit device trim, smart switches, and card readers. pdqSMART offers a complete package of mobile-centric smart devices on the market today.
Mobile Centric Bluetooth Access Control - Lock/unlock from your Smartphone.
Stand-Alone and Wireless Networked Access Control devices
Perfect for retrofits, devices fit standard door prep. Just plug and play
Credentials to meet user preferences, Smartphone, RFID, PIN Pad, smart remote, smart watch, and key.
Cloud-hosted software with wireless mobile management.
Scalability for 1,000's of devices and users (networked version)
Affordable; no hard wiring, no control panels, no servers, or IT guru required.
Locks are future-proofed and never obsolete with free firmware updates.