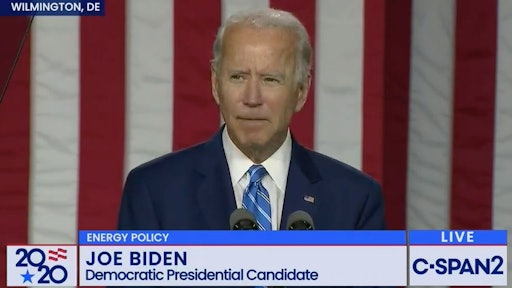 C-SPAN
Former Vice President Joe Biden released a sprawling plan to revamp American infrastructure and energy to both curb climate change and spur economic growth. 
The presumptive Democratic presidential nominee's proposal, which he is calling the Build Back Better plan, aims to achieve carbon-free power generation by 2035. As the coronavirus pandemic leaves the U.S. caught in an economic crisis, Biden says his plan will set out to create "millions" of union jobs that pay at least $15 per hour as the U.S. overhauls its roads, bridges, trains, auto industry and broadband system. 
"We need millions of construction, skilled trades and engineering workers to build a new American infrastructure and clean energy economy," Biden says. "These jobs will create pathways for young people and for older workers shifting to new professions, and for people from all backgrounds and all communities. Their work will improve air quality for our children, increase the comfort of our homes, and make our businesses more competitive." 
Biden says he will rely on American union labor and American-made materials and products to build this infrastructure. His plan is to create jobs in planning and management, from architects to engineers to designers. He also wants to invest in the pre-development, development and construction of infrastructure, building it in places and with the advanced materials.
Addressing Climate Change
The plan, which comes days after a joint task force formed by the Biden and Sen. Bernie Sanders campaigns outlined a climate change agenda, sets out a more ambitious approach to developing clean energy than the Biden campaign did during the Democratic primary. It calls for $2 trillion in spending over four years, more than the $1.7 trillion the campaign previously proposed to spend over a decade. 
"When Donald Trump thinks of climate change, the only word he can muster is hoax. When I think of climate change, the word I  think of is jobs," Biden says. "Good paying, union jobs that puts America to work making the air cleaner for our kids to breathe, restoring our crumbling roads and bridges and ports, making it faster cheaper and cleaner to transport American made goods all across the world. Jobs." 
The Biden campaign says the plan would be paid for with a combination of stimulus and increases in the corporate tax rate.
"Even if we weren't facing a pandemic and an economic crisis, we should be making these investments anyway," Biden said of the plan during remarks in Delaware. He called the investments "critical" for the economy and public health.
The key elements of the Biden Plan to Build a Modern, Sustainable Infrastructure and an Equitable Clean Energy Future include:
Build a Modern Infrastructure
Position the U.S. Auto Industry to Win the 21st Century with technology invented in America
Achieve a Carbon Pollution-Free Power Sector by 2035
Make Dramatic Investments in Energy Efficiency in Buildings, including Completing 4 Million Retrofits and Building 1.5 Million New Affordable Homes 
Pursue a Historic Investment in Clean Energy Innovation
Advance Sustainable Agriculture and Conservation 
Secure Environmental Justice and Equitable Economy Opportunity
Biden hit Trump hard when referring to his inaction on infrastructure, promising to make change happen. 
"We need to modernize America's infrastructure," Biden said. "Despite this overwhelming need, this president and republican Congress have simply failed to act. They continue to break promises they made to the American people. Donald Trump promised a big infrastructure bill when he ran in 2016. He promised it again in 2017 and then 2018 and again in 2019 and now he  is promising one again. 
"Every few weeks when he needs a distraction from the latest charge of corruption in his staff — or the conviction of high ranking members of his administration — Donald Trump announces it's 'Infrastructure Week,' Biden said on Facebook. "He's never delivered. I know how to get it done."
Biden also stated he wanted to reverse the rollback Trump put in place of 100 public health and environmental rules.