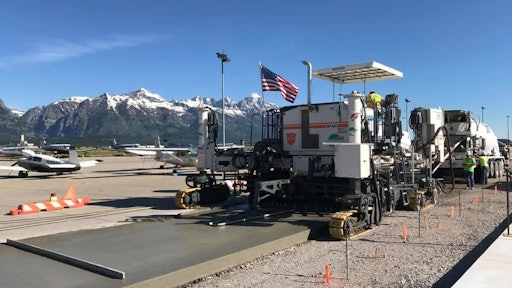 Lance Walker/Facebook
The House of Representatives voted on Thursday to approve a $715 billion transportation and water infrastructure bill focused on improving and repairing roads, bridges, transit and rail, and ensuring clean drinking water. According to The Hill,  the INVEST in America Act authorizes $343 billion for roads, bridges and safety measures, $109 billion for transit, $95 billion for passenger and freight rail, $117 billion for drinking water infrastructure resources and roughly $51 billion for wastewater infrastructure, according to a fact sheet on the bill.
The measure would also reauthorize surface transportation programs that are set to expire on Sept. 30, as well as invest in Democratic priorities like promoting electric vehicles, strengthening drinking water standards and making utilities more durable against the impact of climate change.
Democrats hailed it as a monumental shift toward more sustainable infrastructure projects, with Republicans warning of lost jobs and a skyrocketing federal debt. Just like in Congress, reactions outside of Washington are also mixed. 
Many associations like the Transportation Construction Coalition (TCC),  a group comprised of 33 national associations and labor unions, support the bill as any investment in our infrastructure is good for the industry. 
"...We view House passage of the INVEST in America Act as another positive step toward fulfilling infrastructure goals championed by both parties," the TCC said in a statement. "The historic highway, public transit and water infrastructure investment levels meet the moment.  The American people strongly support making infrastructure improvements to help accelerate U.S. economic recovery post-pandemic. The TCC urges House, Senate and Biden administration leaders to ensure enactment of a surface transportation law, and broader infrastructure package, before the September 30 funding deadline."
A Green Shift
And while new money and funding certainty for infrastructure is a good thing and a bulk of the House package does tackle surface transportation projects, the bill also aims to create a nation-wide shift away from fossil fuel-based infrastructure programs — a leading source of ozone-depleting carbon emissions — toward mass transit and other more sustainable ventures that take into account a warming climate.
Toward that end, The Hill says: "the bill features provisions discouraging states from leaning on highway expansions as their only strategy for relieving congestion; promotes a shift to zero-emission transit vehicles; expands transit to more rural communities; and includes almost $40 billion for charging stations and other electric vehicle infrastructure."
Republicans have warned that the legislation, by steering away from existing industries like oil and coal, would cost the country countless jobs. Democrats reject that argument outright, saying the shift would not only create "millions" of new jobs in greener industries, it would also better prepare the United States to compete with other countries — not least of which China — in the race to lead the globe in energy, infrastructure and transportation technologies in the remainder of the 21st century. 
Democratic congressional leaders have been pursuing a dual track approach to infrastructure, pushing for a bipartisan infrastructure proposal, while at the same time setting the stage for the Senate to pass a broader package with only Democratic votes through reconciliation that could include any priorities left out of a bipartisan deal.The approach has led to tension on Capitol Hill, however, and the future of the bipartisan deal is still uncertain.
As a result, most Republicans voted against the bill. 
"Voting for this bill is an implicit endorsement of the Speaker's (Nancy Pelosi's) overall strategy to ram through a $6 trillion tax-and-spend plan," said Sam Graves (R-MO), the top Republican on the House Transportation and Infrastructure Committee said.
The legislation is an authorization measure, not an appropriations bill, and it does not include a pay-for mechanism as it came out of the Transportation and Infrastructure Committee and that is not part of the committee's jurisdiction.
Industry Segments Oppose Provisions
Within the INVEST Act, there are several provisions that could have negative impacts on the industry. 
One provision is to raise trucking insurance liability from $750,000 to $2 million, and it mandates automatic braking on new trucks and increases scrutiny of truck dispatch services.
"I expect this provision of the bill to be hotly contested in the Senate," Lauren Marciano, a transportation law attorney at the national law firm Hall Estill said. "There has been a major push from small trucking operations to block planned increases in insurance liability rates in the industry. While the so-called 'nuclear verdicts' and bad conduct are what capture national attention, the industry has made sure to emphasize that the current liability limit requirement covers the vast majority of accidents. Small operations are most likely to feel the squeeze from this proposed change and that would be another unfortunate knock to the industry with unintended consequences.
"The legislation seems to consider the issue in a vacuum and fails to consider additional coverages that apply to many events. Excess coverage and underinsured motorist coverage are perfect examples. The best thing trucking operations can do while awaiting more guidance and ultimate outcome is to review their coverages and work with a broker to plan for changes. With the landscape of the trucking industry the way it is, businesses should never take for granted the benefit of annually reviewing coverages, keeping consistent policies and procedures, and having a rapid response plan in place," Marciano concludes.
Stay tuned to ForConstructionPros.com for the latest updates on infrastructure funding.