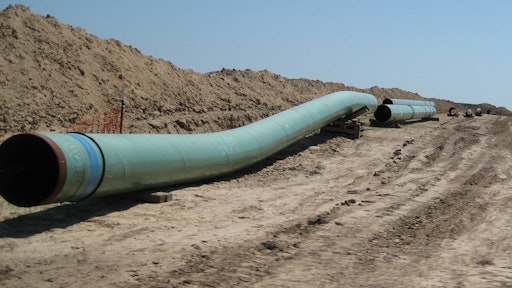 shannonpatrick17, Flickr
Shortly after his inauguration, President Joe Biden signed several executive orders, including one revoking the cross-border presidential permit required to finish the beleaguered Keystone XL pipeline project. An orderly shutdown of construction on the project will begin, with Keystone XL President Richard Prior noting it will mean the elimination of more than 1,000 primarily union jobs in the coming weeks.
First proposed in 2008, the 1,700-mile pipeline was set to carry roughly 800,000 barrels of oil daily from Alberta, Canada, to the Texas Gulf Coast, helping to further expand Canadian oil exports to the U.S. and more readily deliver product to Texas-based refineries. The project quickly became a source of tensions and legal battles over environmental concerns.
President Biden made his intentions toward the project known during his election campaign and reiterated them post-election. With cancellation looming, TC Energy Corp. announced late Sunday that it would spend US$1.7 billion on a solar, wind and battery-powered operating system for the pipeline to ensure it is zero emissions by 2030, and that it would rely exclusively on union labor, APNews.com reports, in hopes it would given the new President pause. Despite such enticement, President Biden moved forward on his first afternoon in office, revoking the permit along with several other initiatives reversing policies put in place by his predecessor.
According to APNews.com, on Monday this week, Alberta Premier Jason Kenney requested a chance to make the case for the long-disputed oil pipeline to be built, threatening legal damages if the permit was revoked. He has since suggested the Canadian government impose trade sanctions against the U.S. if the decision is not reversed.
Prime Minister Justin Trudeau raised concerns and cited completion of the pipeline as a top priority during a phone call to Biden back in November. He has since expressed his disappointment but supported Biden's right to the decision.
Associations with stakes in the pipeline's development expressed dismay at the project's cancellation. Marty Durbin, president of the U.S. Chamber's Global Energy Institute, issued a statement shortly after the order was signed: "The Chamber opposes President Biden's action to revoke the permit for the Keystone XL pipeline. The pipeline — the most studied infrastructure project in American history — is already under construction and has cleared countless legal and environmental hurdles. This is a politically motivated decision that is not grounded in science. It will harm consumers and put thousands of Americans in the building trades out of work. Halting construction will also impede the safe and efficient transport of oil, and unfairly single out production from one of our closest and most important allies."
The Associated Equipment Distributors (AED), an international trade association representing companies involved in the distribution, rental and support of equipment used in construction, mining, forestry, power generation, agriculture and industrial applications, also expressed dismay at the revocation of the cross-border presidential permit. The association has been a strong supporter of the Keystone XL project for more than a decade and has advocated for its completion.
"AED is deeply disappointed by the Biden administration's move to quash this important energy infrastructure project," AED President and CEO Brian McGuire stated. "Completion of the Keystone XL pipeline would create thousands of jobs and significant economic activity with minimal environmental impact. It was studied extensively, including by the U.S. State Department, and each determination was that it was a safe and reliable means to transportation energy. AED strongly urges President Biden to reconsider his executive order and permit the completion of the Keystone XL pipeline."
AED indicated it will continue to work with Congress and industry and labor allies to urge the Biden to reassess the executive order and allow for the project's completion.