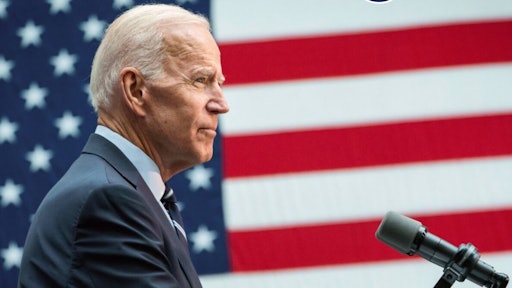 WhiteHouse.gov
President Joe Biden signed 17 executive orders, memorandums and proclamations on the afternoon of his inauguration Wednesday. Much of the action that impacts construction deals with pandemic response and reversing Trump's relaxing of regulatory policy. The New York Times reports the administration is moving with urgency born of what its leaders are calling "converging crises": the pandemic, economic struggles, immigration and diversity issues, and the environment.
Executive actions that impact construction include:
An executive order that Donald Trump refused to issue, imposing a national mandate requiring masks and physical distancing in all federal buildings, on all federal lands and by all federal employees. Biden urged Americans to wear face coverings for 100 days in his inaugural address, and plans to revive a global health unit in the National Security Council to oversee pandemic preparedness and response.
An executive order will revoke enhanced enforcement of immigration violations aimed at people already in the United States.
An executive order that will halt construction of the southern border wall while the Biden administration examines the legality of the project's funding and its construction contracts.
An executive order that will require all federal agencies to report within 200 days on how to remove barriers to racial equity in policies and programs. Biden directed federal agencies to conduct reviews looking to eliminate systemic discrimination in policies and reverse historic discrimination in safety net and other federal spending.
In addition to signing a letter indicating that the United States will rejoin the Paris climate accords, Biden also signed executive orders rescinding Trump-administration rollbacks to vehicle emissions standards; imposing a moratorium on oil and natural gas leases in the Arctic National Wildlife Refuge; revoking the permit for the Keystone XL pipeline; and re-establishing a working group on the social costs of greenhouse gasses.
Biden issued a freeze on all new regulations put in motion by his predecessor to give his administration time to evaluate which ones should move forward.