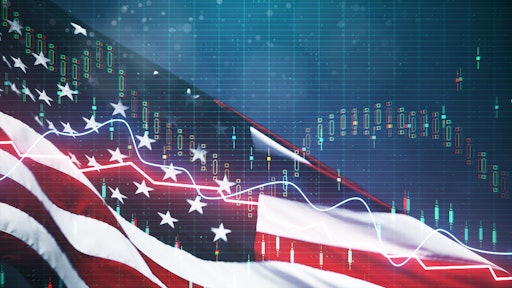 Adobe Stock/peshkov
President Joe Biden signed an executive order Monday to tighten "Buy American" rules to boost federal purchases of U.S.-made goods as part of his campaign pledge to invest in the country's manufacturing industry.
"I've long said that I don't accept the defeatist view that the forces of automation and globalization can keep union jobs from growing here in America. We can create more of them, not fewer of them," Biden said as he prepared to sign the document at the Eisenhower Executive Office Building.
"I don't buy for one second that the vitality of American manufacturing is a thing of the past. American manufacturing was the arsenal of democracy in World War II. It must be part of the engine of American prosperity now," he said. "In 2018 alone, the Defense Department spent $3 billion on foreign construction contracts, leaving American steel and iron out in the cold. It spent nearly $300 million in foreign engines and on vehicles instead of buying American vehicles and engines from American companies, putting Americans to work."
The executive order is in keeping with the "Buy American" plan described by Biden on the campaign trail before he was elected president. Biden called for a $400 billion investment in "Buy American" procurements during his first term.
Administration officials have said the executive order is part of Biden's Build Back Better campaign platform "to address the structural challenges to our economy that have existed before the COVID crisis" and reflects the president's view that "making things in America is core to our economic strategy."
Biden said the executive order was the first step in the larger Build Back Better Recovery Plan  that invests in American workers, unions and businesses up and down the supply chain. The order tightens the existing Buy American policies and goes further by setting clear directives and clear explanations.  
"The basic idea here is that American taxpayer dollars should go to American goods made by American workers,"  Pete Buttigieg, the current transportation secretary nominee said. "Think of all of the things that are purchased by the Federal government. For example, I'm nominated for the Department of Transportation and think about all the equipment that goes in to transit authorities, buses, road surfacing projects, you name it."
Buttigieg says the new order tightens up the language for these Buy American orders.  
"This is a chance to get serious about the Buy American idea," he says. "This order wouldn't have been required if it had already happened and President Biden saw a need to tighten up the definition [...] and make sure there is someone personally responsible for overseeing these Buy American provisions."
As a part of the order, there will be a Buy America "czar" at the Office of Management & Budget, who is directed to review and coordinate efforts by the various agencies, including waiver requests.
Similar Initiatives, Stronger Direction
While the order does have some similarities with the previous administration as Buttigieg noted, experts say Biden's order is more precise in its goals and initiatives. 
"Both President Biden and President Trump, as part of their initial rounds of Executive Orders, each prioritized "Buy American" type provisions—a notable point of similarity between two very different administrations. Indeed, aspects of President Biden's Executive Order are very similar to President Trump's 2017 Executive Order," Alex Hontos, partner at the international law firm Dorsey & Whitney says. "However, President Biden's Executive Order contains more directives than Trump's BA Executive Order did. President Biden's order directs significant changes to the existing BA approach for Federal procurements by, for example." 
Biden's order also directs specific changes to "component test" for measuring BAA compliance (suggesting that more of the value of goods are services will have to be provided by domestic end products); increases the percentage of domestic production; increase price preference for domestic products Hontos says. 
"With this order, the Biden Administration is directing changes to long-standing practices by using the Federal Government's purchasing and grant processes to increase the amount and quantity of domestic goods/services purchased by the Government," Hontos says.  "The Biden Administration is going farther than the Trump Administration—at least when it comes to Buy American executive orders—to prioritize domestic industry in government procurement. That position may create tension with Free Trade purists. But it seems consistent with the Middle-of-the-Road, Middle Class, Manufacturing on Main Street approach that Biden campaigned on," Hontos says.
The Buy American order is the latest in a flurry of directives issued by the new president in the days following his inauguration last week. Through executive orders, proclamations and other memoranda, Biden addressed issues such as COVID-19 mitigation, economic relief, combating climate change and advancing racial equity, many of which will have implications for U.S. contractors. 
While government purchases are only a small fraction of the U.S. economy — about $586 billion in fiscal 2019, according to the Government Accountability Office — Biden said the move will help forward his agenda to create good-paying union jobs for American workers and stimulate the U.S. economy.
Manufacturing and labor groups including the AFL-CIO applauded the order, which tightens policies already in place.
Brian Turmail, vice president of public affairs and strategic initiatives for the Associated General Contractors of America, said the association is taking a look at the new order and that its ultimate impact will not be known "until we see how each federal agency opts to implement it."