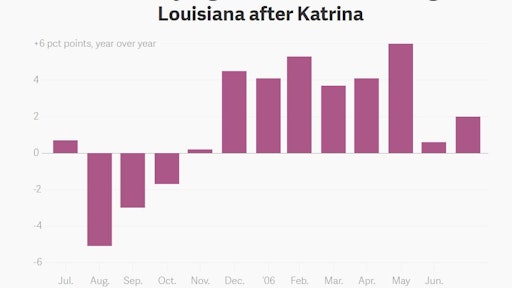 The damage brought by Hurricane Harvey has upended the lives of thousands of Texans and continues to wreak havoc on their communities. Rebuilding will take time, but with it will likely come a slew of construction jobs, as roads, buildings, and homes get needed repairs in the coming months.
It's a trend that has shown itself in the most devastating hurricanes to hit the US in recent decades: the storm lands and in the following months construction jobs grow faster than the national average.
Construction jobs after Hurricane Katrina
Following Hurricane Katrina in 2005, construction jobs grew at a slower pace than the national average but five months in, the state was seeing year-over-year gains of four percentage points or more.
Overall, Louisiana gained 7,800 construction jobs in the year following Katrina's landfall, an increase of 6.4%.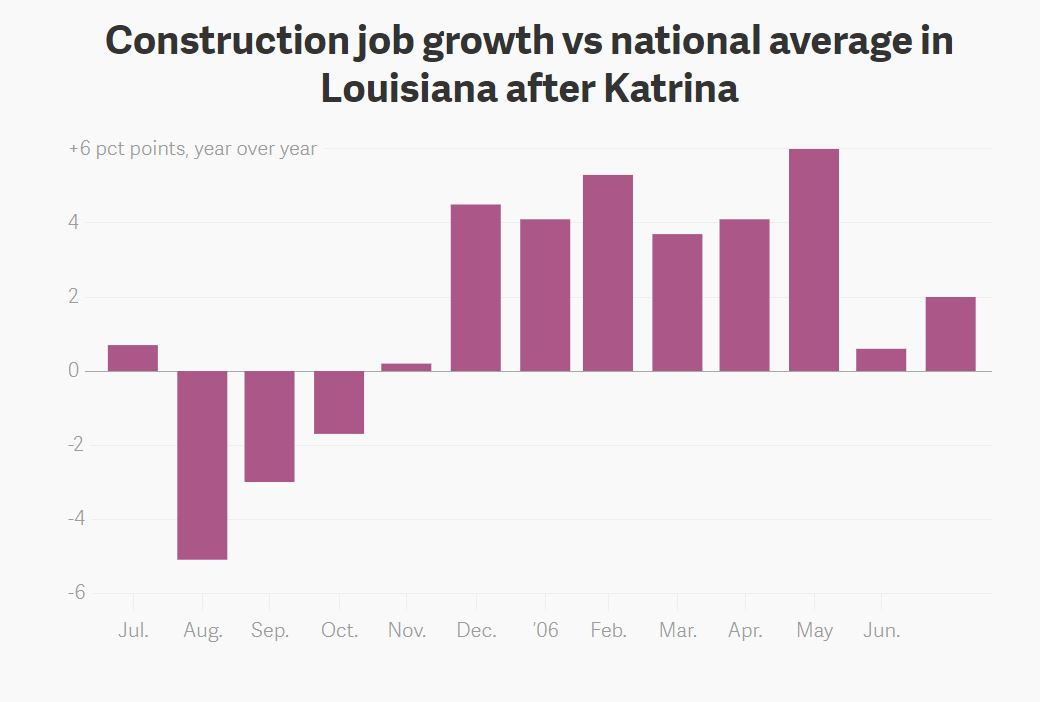 But Where Will the Workers Come From?
The first concern with rebuilding will be the financial resources necessary: Will insurance companies cover all the losses, and how much of them? How will the federal government's heavily indebted flood insurance program come up with the cash to pay claims? And how much additional assistance will the federal government provide?
There's another problem: a lack of human resources. It takes a lot of labor to remove debris after a storm and then reinstall Sheetrock and drywall, rebuild floors, and fix electrical and plumbing systems. The work is resistant to automation. And it is but one way in which Houston, which was poorly situated to deal with a hurricane, may also be poorly situated to recover from it.
There are particular shortages in the types of trades that get called into action after a disaster. America's construction labor force has undergone a sea change in the past decade. When the housing bust came, hundreds of thousands of roofers and other skilled and unskilled tradespeople were laid off. Because the recovery was remarkably slow, many went on to find work in different industries. Many construction workers had come to the United States (legally and illegally) from Mexico and Central America to work in the boom years, and in the bust years some of them went home. Others were deported. And in recent years, the flow of new potential workers has slowed down significantly. The result: As the U.S. housing and construction recovery has chugged on, it has become more difficult to hire construction workers. In June, there were some 225,000 open construction jobs in the U.S., up 31 percent from June 2016.