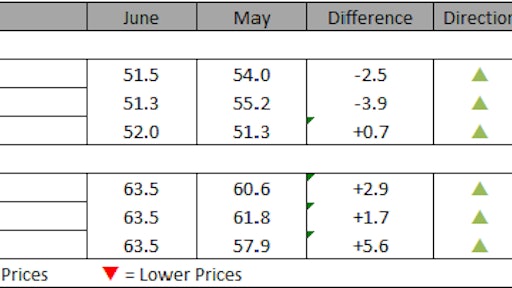 Construction costs rose again in August, according to IHS Markit and the Procurement Executives Group (PEG). The headline IHS Markit PEG Engineering and Construction Cost Index registered 54.0, up from 51.3 in July. Both material/equipment and labor sub-indexes registered rising prices.
The materials/equipment price index registered 54.2 in August, slightly higher than the July figure of 52.4. Price increases were uneven. Eight of the 12 categories tracked in the materials index showed higher prices, three categories registered flat pricing and one – ocean freight from Europe to the U.S. – had falling prices. Prices remained flat for fabricated structural steel, exchangers and ocean freight from Asia to the U.S. Copper-based wire and cable increased once again, approaching the index figures last seen at the beginning of 2017.
"Commodity prices have risen strongly in the past seven weeks, with copper on the London Metal Exchange, jumping 14 percent between early June and August," said John Mothersole, director Pricing and Purchasing, IHS Markit. "Better data from China, a softer U.S. dollar and new fears about mine supply disruptions have combined to lift prices. The market, however, looks overbought. If possible, we would avoid purchases at the moment and await what we believe will be a modest correction."
The current subcontractor labor index rose in August, with the index coming in at 53.4. Regionally, costs rose in all four regions of the U.S., but the overall index was pulled down by Canada. Labor costs fell in eastern Canada and they were flat in western Canada.
The six-month headline expectations index recorded another month of increasing prices, moving down only slightly from 68.3 in July to 68.2 in August. The materials/equipment index stayed positive, at 71.2. Twelve consecutive months of rising prices affirm widespread expectations of future higher costs. Unlike current material/equipment prices, expectations for future price increases were more widespread, with index figures for every component coming in strongly above neutral. Price expectations for sub-contractor labor came in at 61.4 in August. Labor costs are expected to rise in all U.S. regions and western Canada. Eastern Canada registered softer future price expectations.
In the survey comments, participants noted an anticipation for higher activity.
To learn more about the new IHS Markit PEG Engineering and Construction Cost Index or to obtain the latest published insight, please click here.