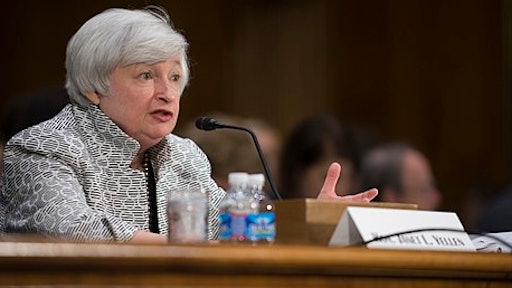 By Federalreserve via Wikimedia Commons
Despite persistently low inflation, the U.S. Federal Reserve raised its benchmark interest rate by a quarter point into a range of 1.25% to 1.5%. The Washington Post reports that this is the fifth increase since the bank cut the rate to nearly zero amid the 2008 financial crisis.
Lower rates are aimed at stimulating economic growth, and in raising the rate, the Fed pointed to a strong economy, with steady growth, limited inflation and unemployment at its lowest level since 2000. Low interest rates make it cheaper to borrow money for homes, cars or major business investments, but if left too long they carry the risk of creating high inflation or investment bubbles.
BusinessInsider.com points out that the Fed often adjusts rates in response to inflation — the increase in prices that happens when people borrow so much that they have more to spend than what's available to buy.
However, what the Fed is doing right now is a bit unusual.
"This is the first tightening cycle where they've been concerned about inflation being too low," said Alan Levenson, the chief economist at T. Rowe Price.
The Fed's preferred measure of inflation last touched its 2% target in 2012, so the central bankers can't exactly argue that they are raising rates to fight inflation, though they do expect prices to rise.