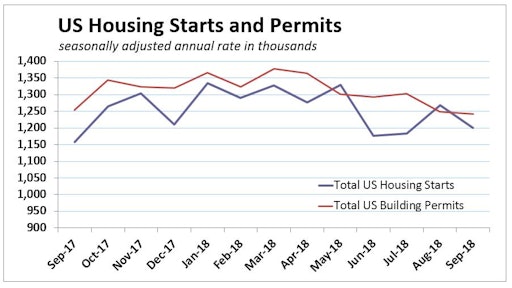 U.S. Department of Commerce
Total U.S. housing starts in September came in below expectations and declined 5.3%. Department of Commerce data indicates much of the decline occurred in volatile multifamily starts, which dropped 12.9%. New single-family units fared a little better delivering a 0.9% decline. Building permits also slipped, by 0.6%.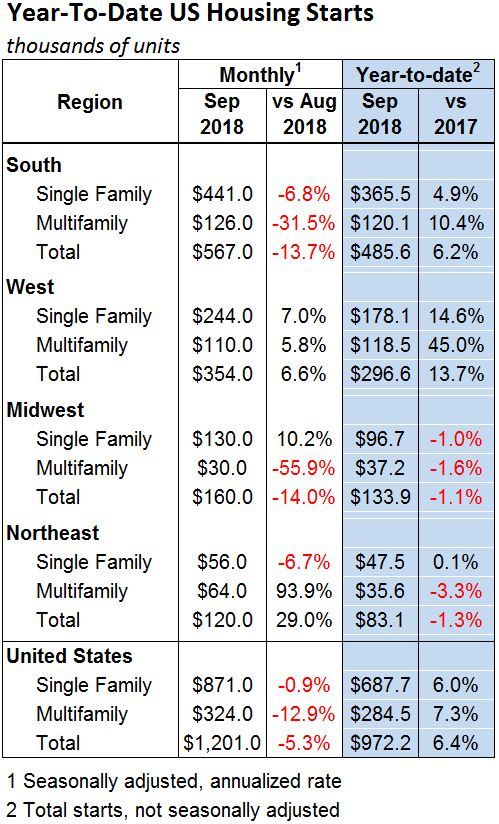 Despite the lackluster string of residential construction data since May, year-to-date starts remain 6.4% above the first nine months of 2017. That spread in the year-to-date comparison has fallen from 11.0% measured in May.
Some of September's weakness may be owed to Hurricane Florence, which hit the Carolinas in mid-September. Starts in the South, the largest region for U.S. home building by far, fell 13.7%. Starts in the West rose 6.6%, with a 7.0% jump in single-family production. Total starts in the South and West year-to-date are well above 2017 on balanced strength in single- and multifamily sectors.
The Midwest saw a steep 14.0% drop in starts on a 55.6% plunge in multifamily construction. Single-family starts jumped 10.2%. The Northeast posted the strongest monthly gain, rising 29.0% on a 93.9% spike in multifamily construction. Single-family starts fell 6.7%. Total Midwest and the Northeast starts in 2018 are both down more than 1% year to date.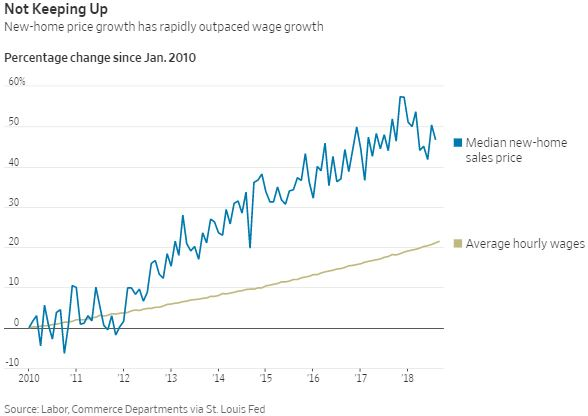 While home-price growth has moderated in recent months, it has outpaced wage growth for years.Wall Street JournalThe Wall Street Journal reports that housing affordability is likely playing a role in housing's drift since May, pointing out that while home-price growth has moderated in recent months, it has outpaced wage growth for years. The median new-home sales-price annual growth has bounced between 5% and 10% throughout 2018, whereas hourly wages have grown about 2% to 3% this year. Supply constraints, such as lack of buildable lots and increasing construction material costs, are helping drive up the price of new homes.
"As there are less buyers at each price point, the appropriate market response is a slowdown in sales and an eventual easing in price momentum," said LendingTree Chief Economist Tendayi Kapfidze. "We need affordability to improve for the housing market to regain momentum."
Related:
"It may be tempting to draw national conclusions from these storm-related dips and rallies, but the regional blips can't obscure the year-long malaise in the national single-family home construction market: Starts have been hit or miss, sales flat and permits trending downward for months," Aaron Terrazas, a senior economist at real estate firm Zillow, quoted by ABC News.