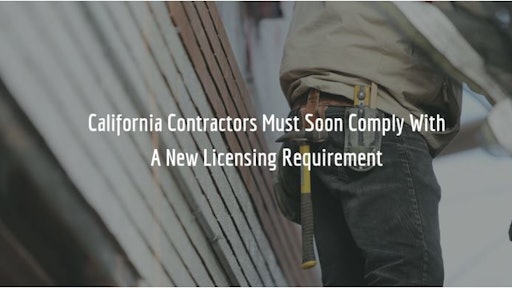 A California bill which was passed in late September has introduced changes to the financial security requirements for contractors in the state. Under the new bill, contractors will not be allowed to post a certificate of deposit instead of a surety bond when getting licensed. Apart from the bond, contractors will now have other options to satisfy the security requirements.
The bill makes amendments to Chapter 9 of the California Business and Professions Code. Its requirements will come into force as of January 1, 2019. Read on for an overview of the bill's provisions and what the bill changes for California contractors.
New financial requirements
Until recently, California contractors had two options to fulfill their financial security requirements when applying for a license from the Contractors' State License Board. Contractors could either post a $15,000 California contractor license bond or provide a cash deposit.
Now, with the passing of AB 3126, contractors can no longer post a cash deposit. Instead, they now have the choice to provide a surety bond, lawful money (as per Section 995.710 of the Code of Civil Procedure) or a cashier's check with the Registrar of Contractors.
To comply with the requirements of the bill, contractors who chose to deposit money or a cashier's checks must do so in an interest-bearing or share account. They must also pay a $100 fee to be used to cover expenses related to processing deposits and paying claims.
Under the new law, all alternatives to these forms of financial security must be replaced and filed with the Board by January 1, 2020. The Board will also stop accepting such alternatives after January 1, 2019. After that date, new applicants for a California contractor license will need to comply with the new requirements.
What about home improvement contractors?
Home improvement contractors in California are also required to post bonds to satisfy financial security requirements. Such contractors have to post payment and performance bonds or, alternatively, a lien and completion bond, a bond equivalent or joint control.
AB 3126 specifically states that its provisions do not apply to the requirements for home improvement contractors. As such it only applies to contractors who applies for a license at the California Contactors' State License Board.
Why do contractors require a bond?
The license bond that contractors need to post when applying for their license is in the amount of $15,000. Its purpose is to serve as a guarantee that licensed California contractors will comply with the sections of Business and Professions Code that apply to them.
It also serves as protection against contractors who violate the Code or their contracts with project owners. The Board specifically states that the bond is for the benefit of any consumer who is damaged by defective construction or other license law violations. The bond is further specified to be for the benefit of employees that have not been paid wages that they are owed.
In other words, if the contractor commits any of these violations, those who are damaged by such a violation may file a claim against the bond. In return, the bond is intended to provide them with compensation, up to the full bond amount. Ultimately, though, it is contractors who are liable for violations, and even if the surety covers a claim the contractor must repay the surety in full.
How much does it cost to get bonded?
Unlike other ways to satisfy financial security solutions, the actual cost of a surety bond is equal to a fraction of its full amount. This fraction, or percentage, is determined by the surety on the basis of an applicant's credit score, as well as certain other financial factors.
The higher an applicant's credit score - the lower their bonding rate will be. For example, applicants with a score of 700 FICO or more are typically offered some of the lowest possible rates on their bonds.
What do you think about the new requirements for contractors in California? Does the exclusion of cash deposits make it more difficult for contractors to get licensed?
Todd Bryant is the president and founder of Bryant Surety Bonds. He is a surety bonds expert with years of experience in helping contractors get bonded and start their business.