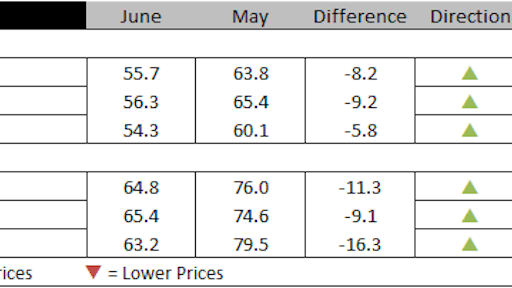 U.S. construction cost increases slowed in June, according to IHS Markit and the Procurement Executives Group (PEG). The current headline IHS Markit PEG Engineering and Construction Cost Index registered 55.7 in June, the 32nd consecutive monthly increase, but a considerable drop from May's reading of 63.8. Both the materials and equipment and subcontractor labor indexes showed declines, with readings of 56.3 and 54.3, respectively, dropping from readings in the low to mid-60s a month earlier. The declines indicate price increases were less widespread in June.
Survey respondents reported increasing prices for nine out of the 12 components within the materials and equipment sub-index, though every component, except for transformers, had a lower figure compared to May. Moreover, the indexes for fabricated structural steel, carbon steel pipe and copper-based wire and cable recorded falling prices, with the wire and cable index showing the largest negative change from May.
"Sentiment in the copper market has become pessimistic since the breakdown in U.S.-China trade negotiations, with prices dropping 10% since late April," said John Mothersole, director of research – pricing and purchasing, IHS Markit. "However, we expect price increases in the second half of 2019 as the fundamentals of the copper market indicate future market tightness, which will drive costs higher."
The sub-index for current subcontractor labor costs reported rising labor costs in all regions of the U.S. and flat prices in both Eastern and Western Canada.
The six-month headline expectations for future construction costs index reflected increasing prices for the 34th consecutive month, with the index backing down to 64.8 from 76.0 in May. The six-month materials and equipment expectations index registered 65.4 this month, down from 74.6 last month. All materials registered increasing prices, with the exception for carbon steel pipe. Expectations for subcontractor labor came in at 63.2 in June, down from 79.5 in May, with labor costs expected to rise in all regions of the U.S. and Western Canada.
In the survey comments, respondents indicated a tight labor market for all skilled trade workers. 
To learn more about the IHS Markit PEG Engineering and Construction Cost Index or to obtain the latest published insight, please click here.
Related Content

Trump's Raised Chinese Tariffs Made Home Construction Much More Expensive

Builder Confidence Solid in June Amidst Growing Economic Uncertainty