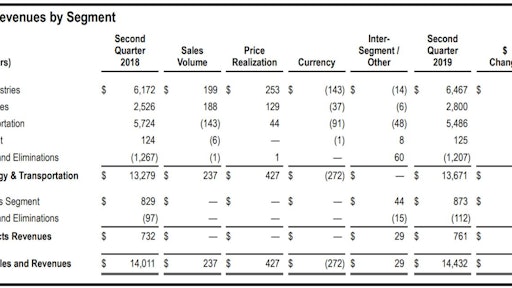 Caterpillar announced a 3% increase in second-quarter 2019 sales and revenues to $14.4 billion, up slightly from $14.0 billion in the second quarter of 2018. Second-quarter profit per share for Q2 2019 was largely level with the same period last year, coming in at $2.83 vs. $2.82 in Q2 2018, but fell below Wall Street expectations.
"Sales and revenues increased this quarter, including a record performance from Construction Industries, which reflected our strong competitive position globally," said Jim Umpleby, Caterpillar chairman and CEO. "Our strong operating cash flow in the quarter allowed us to repurchase shares and pay dividends of about $1.9 billion. This is in line with our intention to return substantially all free cash flow to shareholders."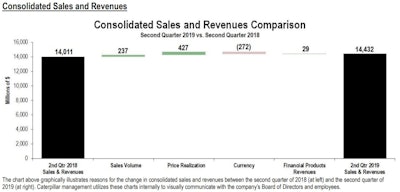 Total sales and revenues were $14.32 billion for the quarter, an increase of $421 million (+3%) compared with $14.011 billion in Q2 2018. The improvement was primarily due to favorable price realization and higher sales volume stemming from improved demand for equipment, which included positive changes in dealer inventories. Sales increased in Construction Industries and Resource Industries, but fell in Energy and Transportation. Sales increased in North America and Latin America, with declines in Asia/Pacific and EAME.
The Construction Industries segment saw total sales reach a record $6.467 billion, a 5% increase over the $6.172 billion achieved in Q2 2018. Sales increases are largely attributed to increased inventories at the dealer level - particularly in North America - reversing the decline seen in the second quarter of 2018.
Construction Industries' profit was a record $1.247 billion, an 8% jump vs. the $1.154 billion seen in the second quarter last year. However, the profit increase was largely offset by higher manufacturing costs, with the increase in sales volume more than offset by an unfavorable product mix.
Wall Street analysts expressed disappointment in the Q2 earnings statement - which saw profit per share well below the $3.12 expected - noting the impact to the company of weaker sales in China and higher manufacturing and restructuring costs. The bellwether company is being closely monitored in light of ongoing trade tensions with China. Its current earnings report includes the May time frame when 25% tariffs went into effect on $200 billion worth of Chinese goods in the on/off trade battle. It also reflects a softening in markets in the U.S., particularly in the company's Energy & Transportation sector, which saw profits dip 12% from last year.
Caterpillar continues to be optimistic for modest sales growth in 2019, on the assumption of a recovery in Oil and Gas near the end of the year and dealers working through higher machine inventory levels. It also expects price realization to offset manufacturing costs, which were elevated in Q2 due to a higher amount of restructuring costs. The company anticipates these costs to taper off for the remainder of the year.
Despite uneasiness in the financial markets, Caterpillar also maintains a positive full-year profit per share outlook, including a projection of $12.06 to $13.06. However, the company cautioned that it is likely to fall at the lower end of this outlook range.
"We expect our profit per share in 2019 to be another record," said Umpleby. "We have the right strategy in place to deliver long-term profitable growth through our continued focus on strategic investments, including growing services and expanding offerings. We will also continue to focus on driving operational excellence including flexible and competitive cost structure."
Companies in this article