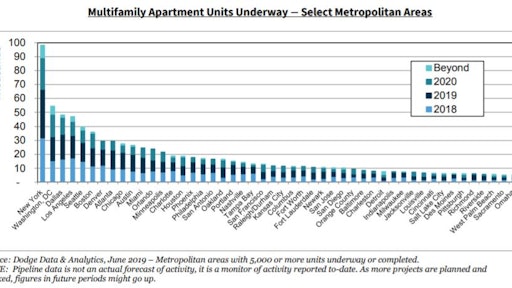 Fannie Mae
There are more than 630,000 new multifamily units currently underway across the U.S., with more than 440,000 of those units expected to be completed this year. But while the number of multifamily units under construction remains solid, the supply and potential demand are unevenly matched, Fannie Mae reports, varying greatly between metropolitan areas, and with much of the development concentrated in higher-cost areas.
The leading reason developers are building primarily in higher-cost metro areas is rising construction costs. "According to data from RS Means, multifamily construction costs have risen 5.3% annually on average from 2016 through 2018, and the cost of most building materials doesn't fluctuate that much by location of the construction project," states Fannie Mae in its July 2019 Multifamily Market Commentary. "Therefore, many developers have stayed focused on those metropolitan areas that boast a trifecta of solid job growth, positive demographic trends, and above-average asking rents."
Only about 12 metropolitan areas have 15,000-plus units that have been recently completed or are currently under construction, and this supply is unevenly distributed across those areas - concentrated in a limited number of submarkets.
For example, in the New York metro area, 45% of the nearly 57,000 multifamily units under construction are located in Brooklyn and Queens. And of the nearly 35,000 units underway in Washington, DC, the bulk are concentrated outside of the District in the Northern Virginia region.
Effects of Job Growth
Fannie Mae projects job growth to reach about 1.5% this year, with an estimated 2.2 million new jobs added. But the level of job growth, like multifamily demand, will vary by area.
Most major metropolitan areas are expecting positive but slower job growth over the next two years as the U.S. economy begins to pull back. Some of those with the best anticipated job growth over the next 18 months include Austin, Dallas, Houston and El Paso, Texas. "There is also robust job growth expected in metropolitan areas that suffered some of the biggest job losses during the Great Recession, notably Orlando, Jacksonville, Las Vegas, and Phoenix, all of which have been a bright spot for multifamily demand over the past two years," the Market Commentary points out.
However, projected job growth has declined in certain metro areas featuring some of the country's most expensive rental housing – and comes at a time when new multifamily deliveries are expected to peak. Areas most likely to be impacted include Los Angeles, San Francisco, San Jose, New York and Boston.
The result is a number of major metropolitan areas are at risk of an oversupply of newer, more expensive class A multifamily units over the next 18 to 24 months. Market fundamentals would be negatively impacted, and the situation would do little to offset the ongoing lack of affordable multifamily rental housing across the country, Fannie Mae states.
Some of the major metro areas likely to face oversupply include New York, Washington, DC, Denver, Boston, Atlanta, Portland and Miami. But even smaller and/or less expensive rental areas, such as Colorado Springs, Richmond, Kansas City and Detroit, could be affected.
Houston, Phoenix and Las Vegas, on the other hand, are anticipated to see some of the best job growth over the next two years, primarily stemming from growth in the professional services, education, healthcare sectors and, in the case of Las Vegas, the tourism sector. Consequently, they are likely to face an under-supply of units, particularly over the short-term.
Though troubling for the near term, Fannie Mae expects the mismatch of supply and demand for new class A multifamily units to be short-lived. "Expected reductions in new supply over the next few years, coupled with expectations for continued demographic trends and that some metropolitan areas will see above-average job growth, should result in multifamily rental demand remaining stable over the longer term," the organization forecasts.
US Housing-Starts Slide in June Caps a Sinking First Half of 2019