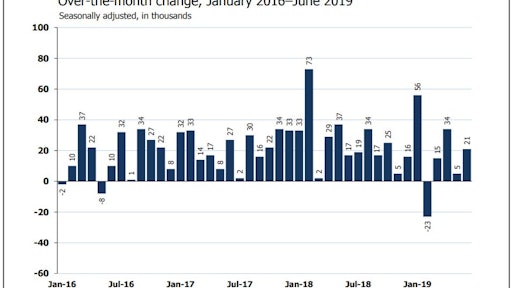 U.S. Bureau of Labor Statistics
Jobs in construction, manufacturing and mining and logging rebounded in June, while May's low numbers were revised upwards, according to the latest Blue Collar Jobs Tracker. Job gains were largely concentrated in the South and West.
Manufacturing jobs rose by 17,000 in June following little change in recent months, per the U.S. Bureau of Labor Statistics. Manufacturing has added an average of just 8,000 jobs per month so far this year, compared to an average 22,000 per month in 2018, making the June increase a substantial gain by comparison.
Matt Sedlar, data analyst, Center for Economic and Policy Research, believes what was a nationwide manufacturing slump has recovered in June, but it's too soon to know if it will last. "It's better to wait until the July numbers are released before we declare the slump dead," he commented.
As has been the pattern of the past several months, blue collar job gains in June were heavily concentrated in the South and West with the addition of 20,800 and 18,900 jobs, respectively, Sedlar indicated. The Midwest also saw an increase of 11,400 blue collar positions, compared with the upwardly revised 4,100 jobs in May, previously reported as a meager 1,700 net increase.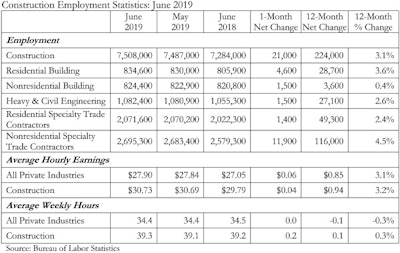 In June, construction employment continued to trend higher, up by 21,000. So far in 2019, the industry has seen an average 18,000 jobs gained per month, compared to 26,000 per month in 2018. On a year-over-year basis, construction employment has expanded by 224,000 jobs (+3.1%).
June 2019 Construction Starts Strengthen Boosted by Nonresidential Building
The Northeast has lagged other regions in terms of job growth in both manufacturing and construction. It was the only region in the country to see construction job losses in June.
"Looking at the net change over the past 12 months, the Northeast has added only 15,200 blue collar jobs compared with 178,400 in the South, 155,100 in the West and 70,700 in the Midwest," Sedlar stated.
"It remains clear that the economy is not working for everyone," he continued, "especially in the Northeast."
California, on the other hand, appears to be experiencing a construction boom, with the number of construction jobs back up to pre-recession levels. The state added 11,900 jobs in June, and 40,000 construction jobs in the last 12 months.The Blue Collar Jobs Tracker cites as a contributing factor an initiative by Governor Gavin Newsom to see 3.5 million homes built by 2025 – an effort intended to address the affordable housing shortage and meet the state's housing demand.
In addition to California, Texas, Georgia, Florida and Arizona also saw sizable gains in blue collar job. "It's safe to say western and southern states drove most of the sector's growth in June," noted Sedlar. "However, the biggest decrease in construction jobs last month was in Nevada, with a loss of 4,200 jobs."
However, Nevada has seen steady growth since the end of the Great Recession, so June is likely a "blip," he added.
Job performance by state and blue collar sector may be viewed on our Blue Collar Jobs Tracker map.