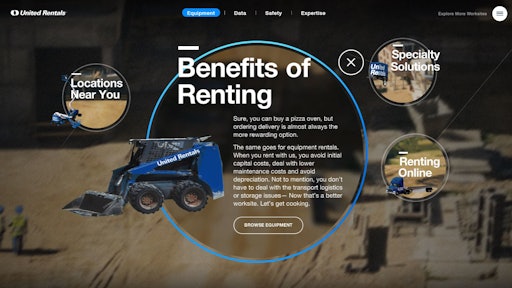 United Rentals is launching "A Better Worksite is Here," a new B2B campaign created in partnership with Droga5, to shine a light on improving work site efficiency across construction, industrial and infrastructure projects throughout North America. The full 360 campaign components include TV, immersive content, contextual OOH and targeted digital.
North American infrastructure is in dire need of repair, yet most projects blow through their budgets and timelines. Equipment is often underutilized and sits idle on construction and industrial work site. The opportunity to improve efficiency industry wide, and to prove there is a better way to work, inspired the United Rentals campaign. 
As part of the program, United Rentals has created an immersive website experience that explores how new ways of applying intelligent equipment, data and expertise can tackle worksite inefficiency. It also features summaries about more than 50 of the largest, real-world infrastructure projects in the US and Canada and what it will take to complete them. Among the projects are Chicago's offering of 30 acres of city-owned vacant land for solar development, a new stormwater facility in Spokane, WA, and the Nashville Yards development.
United Rentals worked with Droga5, a New York City-based advertising agency, to develop the program. According to its site, Droga5 specializes in creating "purposeful work."
"We enlisted Droga5 because we believe creativity is a critical component in connecting with our customers, who live in the real world and respond to a more human approach," said Chris Hummel, CMO, United Rentals. "We want the campaign to resonate with them by tapping into real industry issues while also ensuring we're inserting a differentiated message into the marketplace." 
Ray Del Savio, Executive Creative Director, Droga5, noted, "We have been excited about our partnership with United Rentals since the onset because they have the appetite and ambition to take a traditional B2B message and bring it to life in a unique and creative way. The first round of work highlights all the solutions United Rentals offers their customers and that by combining equipment, data, safety and expertise United Rentals can help the industry transform the way works get done."
The first film of the campaign, "Idle" (see below), takes a humorous approach to what happens to equipment when it sits idle for a lengthy period on the work site. 
To explore more elements of the campaign, visit www.ABetterWorksite.com.