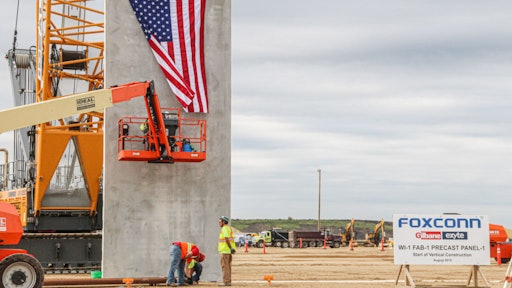 Foxconn
More than 400 precast concrete panels have been put into place and structural steel work will begin next week at the beleaguered Foxconn Technology Group manufacturing facility in Mount Pleasant, WI. Approximately 200 construction workers are currently on site and $175 million in contracts have been awarded thus far for the project. Gilbane/Exyte is serving as construction manager for the the future Wisconn Valley Science and Technology Park.
Foxconn has faced substantial criticism for its failure to adhere to a tax incentive-laced agreement with the State of Wisconsin to build a large-scale manufacturing facility to produce Gen 10.5 LCD display screens – a promised investment of roughly $10 billion with the opportunity to generate 13,000 jobs. The scaled-back operation currently in the early stages of construction is a 993,000-sq.-ft. building with a footprint of roughly 860,000 sq. ft. Dubbed TFT-LCD Gen6 Fab ("Fab" is short for thin-film-transistor fabrication plant), it will make a variety of screen sizes, as well as other electronic components.
Foundations and footings for the facility were installed in June, and currently 10 to 15 precast panels are going into place daily, plus work is being performed on roadways into the area and sewer and water utilities. Each of the panels weighs up to 75,000 lbs. and measures 14 in. in thickness and up to 48 ft. in height. The panels will be erected utilizing two cranes and two crews to achieve the aggressive schedule of continued vertical construction. Work is also being completed on roadways into the area and is ongoing for sewer and water utilities, as well as a power substation.
The building is expected to be completed in the second quarter of 2020, with the goal for manufacturing operations to commence by late that year. State and local officials have indicated they were told the facility will employ up to 1,500 workers. However, Foxconn has yet to publicly comment on employment numbers.
Learn more: Foxconn goes vertical: Construction of 'fab' plant walls starts