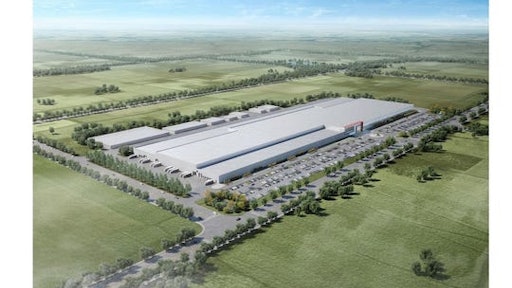 Village of Mount Pleasant
Foxconn Technology Group's factory in Mount Pleasant, Wis., will be constructed with exterior walls of precast concrete and metal paneling, according to documents made public in advance of a meeting Wednesday of the village Plan Commission, reports the Milwaukee Journal Sentinel.
Foxconn Says Construction Will Move Forward on Wisconsin Factory
Foxconn Awards Contracts to 37 More Companies
Architectural drawings show a 993,000-square-foot building with a footprint of about 860,000 square feet. The space occupied by a mezzanine in parts of the one-story structure appears to account for the difference.
The campus was originally billed as a manufacturer of Gen 10.5 LCD display screens, the largest in the world. The company later scaled back to a Gen 6 facility that would make a variety of screen sizes. Last week company executives said the products made at the Foxconn facility would be extended to include servers, networking products and automotive central controls.