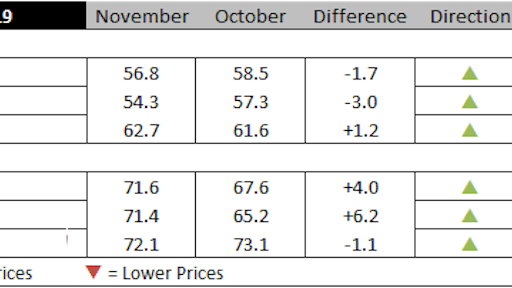 Construction costs increased once again in November, according to IHS Markit and the Procurement Executives Group (PEG). The current headline IHS Markit PEG Engineering and Construction Cost Index registered 56.8 in November, marking the 37th consecutive month that construction costs have increased. Both the materials and equipment and sub-contractor labor indexes indicated continued price increases, with readings of 54.3 and 62.7, respectively.
Survey respondents reported increasing prices for 9 out of the 12 components within the materials and equipment sub-index. For example, prices for transformers, turbines, pumps and exchangers increased, although index figures backed off from last month. Ocean freight prices to the United States from both Asia and Europe also increased. According to the index, copper cable and wire, carbon steel pipe and fabricated structural steel prices fell in November.
"Carbon steel pipe prices remain under pressure due to ample supply and weak demand, conditions that will continue to weigh on carbon steel pipe prices into the first quarter of next year," said Amanda Eglinton, associate director at IHS Markit. "Alloy pipe prices have been rising due to higher nickel prices and a tighter market balance, though nickel prices have plummeted over November and will point alloy pipe prices lower in December and early 2020."
The sub-index for current subcontractor labor costs reported rising labor costs in all regions of the United States and Eastern and Western Canada. The diffusion index figure rose once again relative to last month.
The six-month headline expectations for future construction costs index reflected increasing prices for the 39th consecutive month with the index registering 71.6, a slight uptick from October. The six-month materials and equipment expectations index came in at 71.4 this month, up from 65.2 last month. Prices for all materials, equipment and freight are expected to rise. Expectations for subcontractor labor ticked down to 72.1 in November, though labor costs are expected to rise in all regions of the U.S. and Western Canada.
In the survey comments, respondents noted shortages for welders as well as truck drivers.