Teletrac Navman, a global software-as-a-service provider that leverages location-based technology for GPS tracking and fleet management solutions, today released findings from its first Telematics Benchmark Report: Global Construction Edition. The survey, which provides a view of telematics trends affecting the global construction market, found managing costs (46%), growing revenue (30%) and business expansion (26%) were top business challenges as the industry faces increased pressure to meet growing demand for its services. In fact, the global construction market is expected to grow by 85% to $15.5 trillion worldwide by 2030.
The survey also revealed technology disruption, economic optimism and labor shortage, in addition to several other key trends.
Technology is beginning to disrupt construction, with a majority of companies looking for ways to improve efficiencies and reduce accidents.
A variety of emerging technologies are top of mind, including fatigue monitoring (27%), machine vision technology (19%), drones (16%) and big data analytics (14%). Only 9% cited autonomous/self-driving vehicles.
More than 80% of organizations are already using telematics or plan to do so in the next year, citing equipment tracking as the most common use (75%), followed by tracking speed (61%) and driver hours (53%).
More than half of organizations using telematics have seen reduced fuel costs, some attaining up to a 40% reduction. Almost one-third have seen fewer accidents.
Optimism in the construction market remains high as the economic recovery continues to pick up speed on a global scale.
More than 90% of companies plan to invest in their business in 2017 by upgrading fleets (45%), finding, retaining and developing talent (38%) and/or integrating new technologies and systems (34%).
Financial considerations, including reducing costs (41%) and increasing profits (48%), are top goals for 2017.
More than half of organizations will be increasing the number of equipment/fleet size over the next year as a result of more demand for services (64%), replacing older equipment/vehicles (55%) and domestic growth (34%).
A shortage of skilled labor is impeding growth while payroll remains a top expense for companies.
Finding, retaining and developing talent was cited as a top business challenge for nearly a quarter of respondents, and more than half named increasing material and labor costs as a top concern.
Although payroll (55%) is cited as the largest business expense area for organizations, followed by equipment/vehicle maintenance (33%), 54% plan to hire more drivers/equipment operators and purchase new equipment this year.
To address the worker shortage, organizations are increasing pay (53%), developing educational/training programs (36%), offering better benefits (33%) and hiring freelance equipment operators (29%).
"The construction industry has long faced pressures to do more with less – more output with fewer resources – to meet customer demands, while also ensuring the safety of its workers and profitability of the business," said Rachel Trindade, global vice president of marketing, Teletrac Navman. "It's no easy task to balance these competing interests, which is why so many fleets are turning to modern technologies, such as telematics, to find efficiencies. We're committed to supporting the industry by helping them understand and navigate these market shifts."
The full report can be found at: http://www.teletracnavman.com/benchmark/construction
Survey Methodology
The 2017 Teletrac Navman Telematics Benchmark Report is based on a survey of more than 1,200 fleet operations and fleet management professionals from around the world. Of the total survey respondents, 260 indicated that their primary industry was construction, mining or oil and gas. The results described in the 2017 Telematics Benchmark Survey: Global Construction Edition, were compiled from those respondents.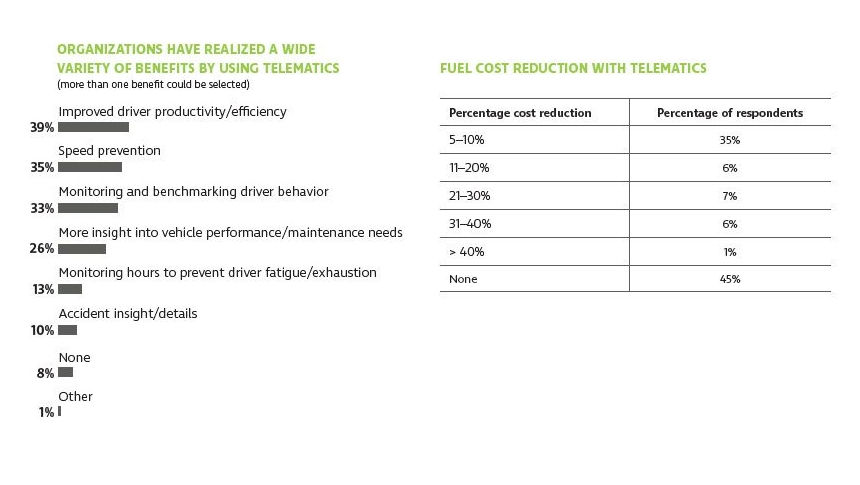 More than half of all organizations using telematics have seen reduced fuel costs, some realizing up to 40% reduction. Almost one-third have seen fewer accidents because of telematics.Teletrac Navman