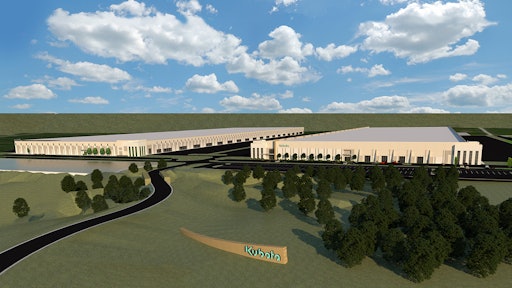 Kubota Tractor Corporation announced the completion of a 200-acre land purchase within Phase II of Logistics Park Kansas City in Edgerton, making the company the first major tenant for the industrial park. Governor Jeff Colyer met with the company to tour the site where it will construct two, 1 million sq.-ft., state-of-the-art logistics facilities for its new North American Distribution Center (NADC). Kubota plans to plant solid roots in Kansas to expand distribution capacity and streamline logistics processes for the timely delivery of Kubota-branded service parts and equipment to U.S. customers.
"Kubota is ready to begin this exciting project along with our city, county and state partners to expand our infrastructure and create solid footing in the Midwest, the Heartland of America," said Masato Yoshikawa, president and CEO of Kubota Tractor Corporation. "We are proud to make this significant investment here in Kansas, a state that shares our values and supports our ambitious goals for the future."
The company has already experienced increased access to its 1,100-strong dealer network since it began leasing space in the area in 2015. The current 765,000-sq.-ft. leased facility will remain in operation in Logistics Park Kansas City until the new facilities are complete. It will continue to be the source for Kubota parts and equipment for worldwide export.
Once complete, the new facility will allow the company to continue to receive and process shipments from Asia and Europe, in addition to goods from suppliers in North America, with more capacity and with accelerated shipping speed for the timely delivery of Kubota parts and equipment. 
"Kubota will anchor the expansion of Logistics Park Kansas City and NorthPoint is proud to continue our more than four-year partnership with the company to see their future plans come to fruition here in Edgerton," said Patrick Robinson, NorthPoint Development.
"As Kubota's construction partner, Clayco's focus and commitment extends far beyond the structures we are building," said Anthony Johnson, Clayco executive vice president. "Our team's goal is to ensure we are providing an environment where Kubota's employees can operate safely and efficiently, and can deliver high quality products to their customers every day."
As the company continues on a growth trajectory, Kubota maintains its commitment to expanding its product offerings, with operational excellence as a priority. "Increasing the capacity of our parts and logistics operations in Kansas will enable us to achieve even greater operational efficiencies to make Kubota's business stronger and more competitive to meet our growing customer demand," Yoshikawa continued.
The new campus will also house Kubota's newest Midwest Division office, which is an extension of the company's existing divisional operation structure that provides regional support to Kubota dealers. Kubota's division offices are located in Suwanee, Ga.; Fort Worth, Texas; Columbus, Ohio; and, Lodi, Calif.; and, soon to be in Edgerton, Kansas.