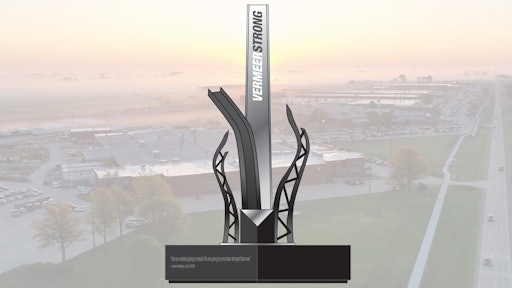 On July 19, 2018, an EF-3 tornado ripped through Pella, IA, area, tearing through the facilities at Vermeer Corporation. Nearly a year later, the company held the ground breaking for a monument that will commemorate the buildings destroyed, while celebrating the strength of the Vermeer team and the growth and progress now happening along what's dubbed the "Vermeer Mile".
"The tornado was the greatest challenge Vermeer has ever faced. I am incredibly proud to say our team has turned it into an opportunity. Not only are we rebuilding what we had, but we're becoming stronger than ever before," said Jason Andringa, president and CEO, at the ceremony held on Friday, July 12th. "We have taken a challenge and we've turned it into what has clearly already proven to be an opportunity."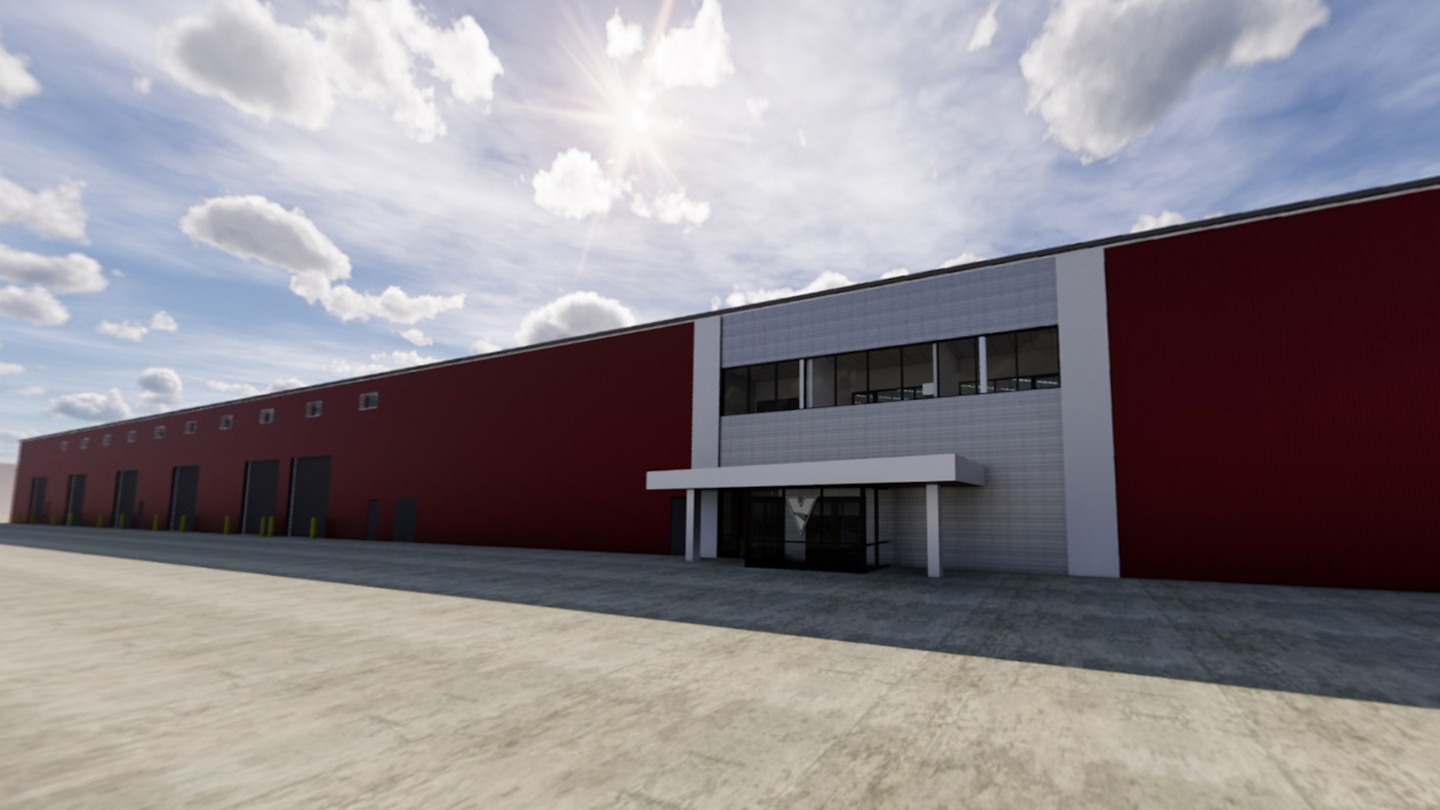 Scheduled to open in August, Shop 48 will feature more than 100,000 sq. ft. of space dedicated to building and testing new equipment.Vermeer currently has three new facilities underway at its Pella-based headquarters. The first facility, scheduled to open this summer, is a new engineering and R&D building named Shop 48. The name stems from Gary Vermeer's original shop, where he designed and built his initial innovations and resulted in the founding of Vermeer Corporation in 1948. With more than 100,000 sq. ft. of space dedicated to building and testing new equipment, team members will begin to move into this space in August.
"Shop 48 will take our innovation and growth opportunities long into the future," said Doug Hundt, president, Industrial Solutions. "It is a special-purpose building that will house all of our prototype building. We will invest in new technology in this building. Essentially, this will enable us to bring our innovation capabilities to an entirely different level."
Plant 7 was also formally announced last week as the new facility being built where Plants 5 and 6 once stood. "After the tornado, once we started to assess the damage, we learned pretty quickly that Plants 5 and 6 were both completely destroyed," said Vince Newendorp, director of facilities and construction. "That left a pretty large opening for us to do something with. We looked at that as… a real opportunity to do something that would set Vermeer up for the future."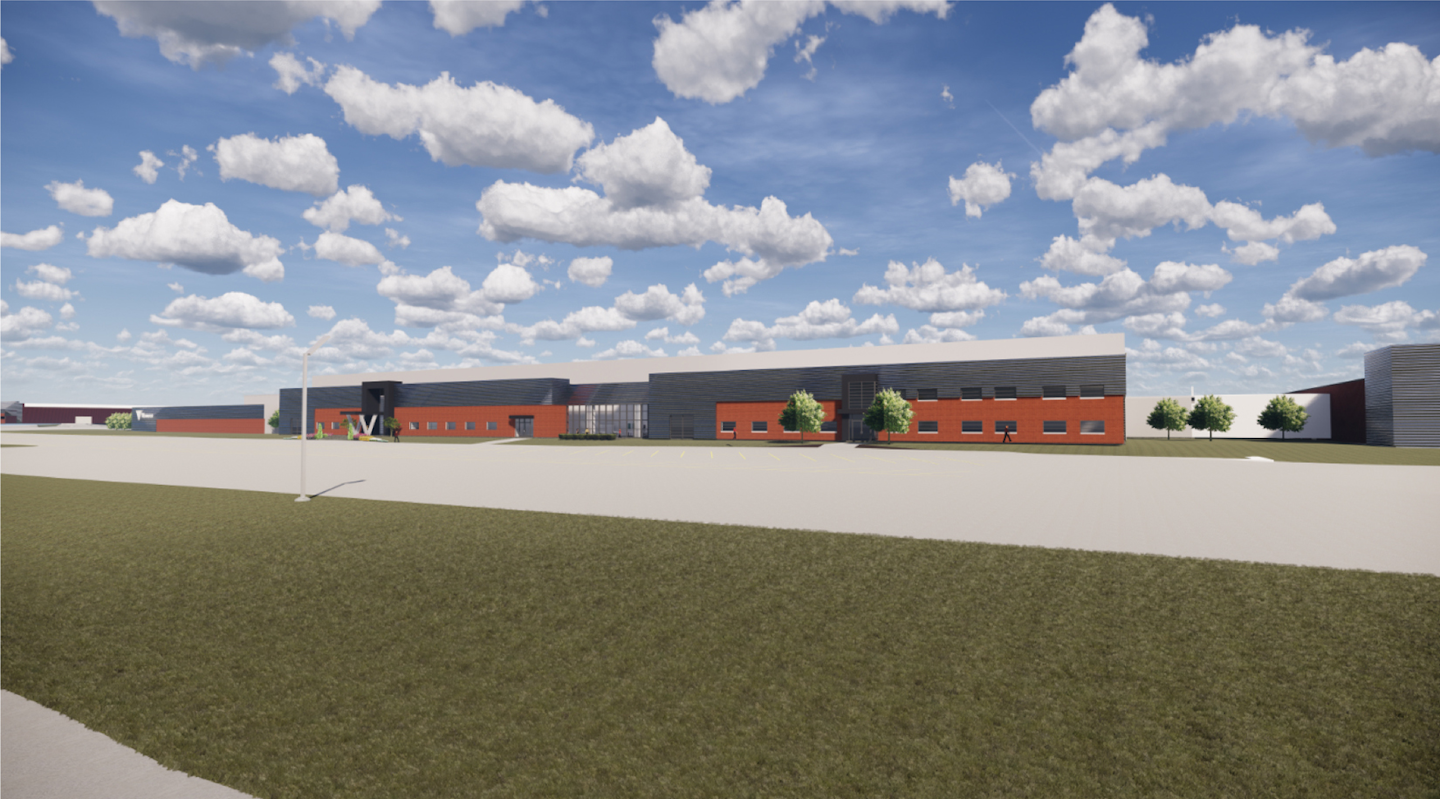 Shown is a rendering of the new Plant 7, which will feature more than 480,000 sq. ft. of manufacturing and office space, expanding beyond the original less than 400,000-sq.-ft. manufacturing footprint.The result will be more than 480,000 sq. ft. of manufacturing and office space that will expand beyond the original manufacturing footprint of less than 400,000 sq. ft. The new facility will connect to the original Plant 7 that was damaged in the tornado but repaired in the months following. The joined facilities will take on the name Plant 7.
Scheduled to be complete in Fall 2020, Plant 7 is being built to keep team members safe at every touch point on the job, to optimize productivity, be a collaborative and engaging space for team members and allow for growth well into the future. Advanced manufacturing techniques and continuous improvement best practices will help drive world-class manufacturing.
"Looking ahead, this facility is going to be world-class in every feature. We're advancing our paint technology, coat technology and the space for our team," said Bill Blackorby, vice president, Operations. "We've also designed and laid out this facility to be super flexible. Ultimately, as a continuous improvement-oriented organization, flexibility is the key. When you walk into this facility, you will see evidence of that throughout."
The company spent the last 11 months working on the facility's design and is set to start construction in August 2019 with an anticipated completion by the end of 2020.
"Our customers depend on our ability to get high quality equipment to them - this new facility makes us excited to continue to deliver on this promise into the future," said Mark Core, executive vice president, Forage and Lifecycle, and chief marketing officer.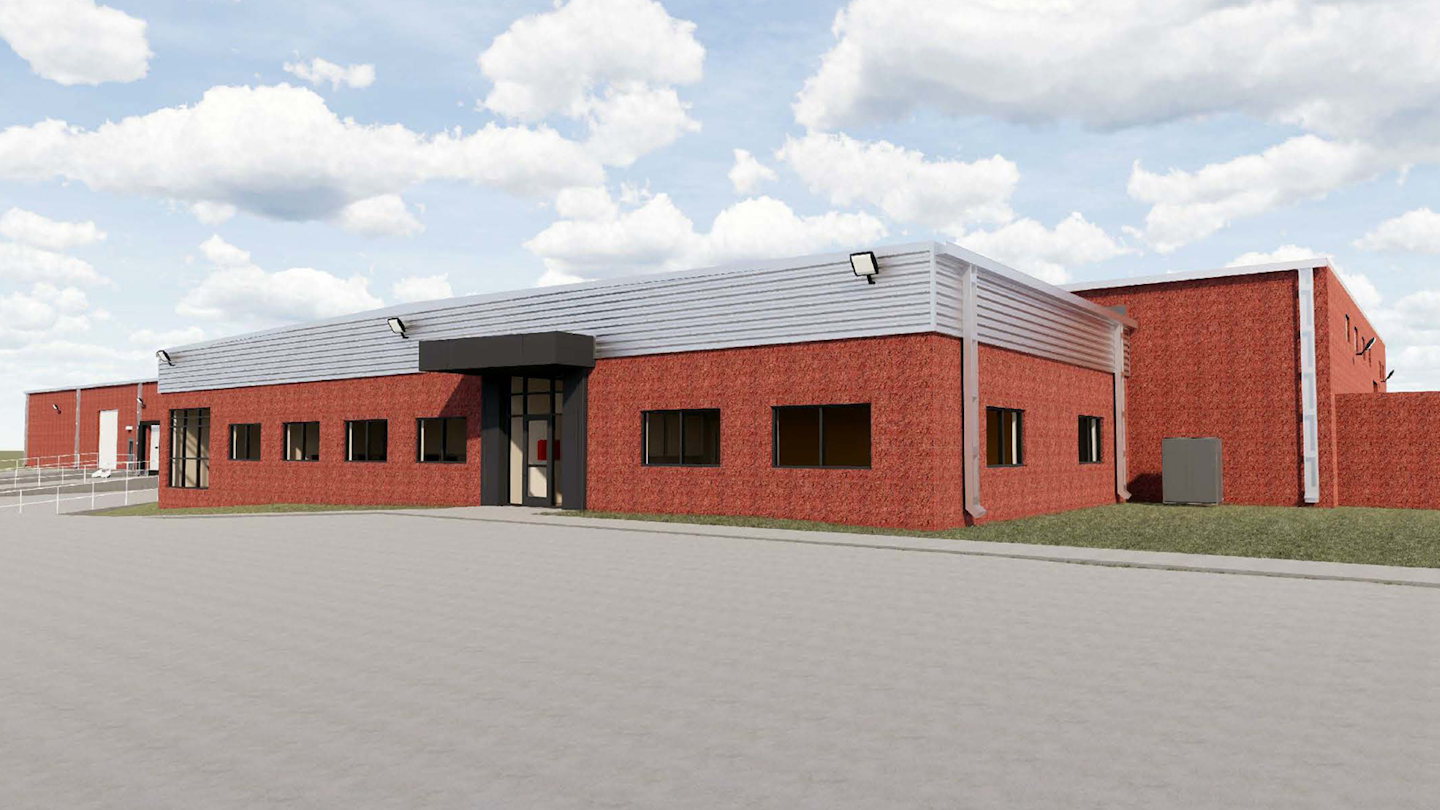 The company broke ground on a new 35,000-sq.-ft. Eco Center facility on July 11. Shown is a rendering of the facility design.Vermeer's Eco Center was destroyed in the tornado, as well. The company broke ground on a new facility on July 11. The 35,000-sq.-ft. building will be placed behind Plant 1 and open its doors in January 2020. The Eco-Center helps responsibly process and manage waste along the Mile.
"It is a state-of-the-art facility where we're taking key learnings on how to improve our processes and how to look at this as an opportunity to improve that area of the business," said Newendorp.
Mortenson Construction, Minneapolis, is serving as general contractor on the Vermeer Mile construction project.
Companies in this article