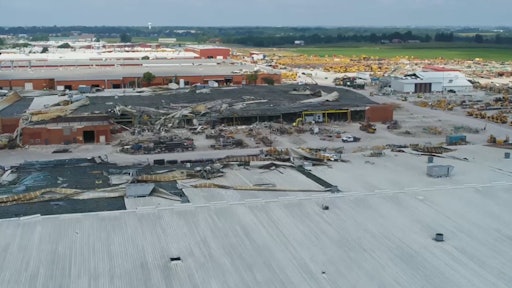 Vermeer Manufacturing has emergency preparedness and Gary Vermeer's foresight to thank for the company coming through a direct hit by an EF3 tornado last Thursday with aplomb.
Several hundred guests were visiting Vermeer's Pella, Iowa, facility – customers and dealers mostly – for the farm and construction equipment manufacturer's 70th Anniversary celebration on July 19. Vermeer Industrial Solutions President Doug Hundt is grateful for about 25 minutes advance warning about the tornado.
"We were able to get all of our employees and guests indoors and into our storm shelters in plenty of time," Hundt says, "And from there, our employees' emergency training kicked in.
"We are thankful that only a few minor injuries were sustained and all individuals who were treated were released from the hospital the same day."
The tornado plowed into Plant 5 and Plant 6, of Vermeer's seven-building complex of assembly halls, leaving 5 a complete loss and the future of 6 in question.
Within an hour of the storm's abating, all employees and visitors were accounted for.
Within 12 hours, Vermeer's U.S. parts distribution center was back online supporting all urgent orders. It is back in full operation today.
Plants 5 and 6 house manufacturing of small and medium sized horizontal directional drills, utility tractors and some large grinders.
Here's where Gary Vermeer's facility design pays off. Vermeer developed the Pella site as a series of product-line-oriented buildings, each with some redundant machining and painting capacity so manufacturing could quickly recover from just this type of loss.
"We are in the process of adding capacity on all shifts and moving major production lines from these plants into our other facilities on the Pella campus or to another nearby manufacturing facility available for rent," said Hundt. "Many of our product lines [Plants 1 through 3] are back in full production today, including our specialty tooling, specialty excavation (large track equipment), solar and Forage product lines. We expect that the primary production facility for our tree care, landscaping and small pedestrian trenching products will be back online within the next two weeks, as well as the facility for our large horizontal directional drills and reclaimers."
Hundt says a high percentage of finished machines on campus received little to no damage, and that inventory will move to dealers quickly. "We and our dealers are working closely together to coordinate inventory across our dealer network to provide support and products to our customers when and where they are needed."