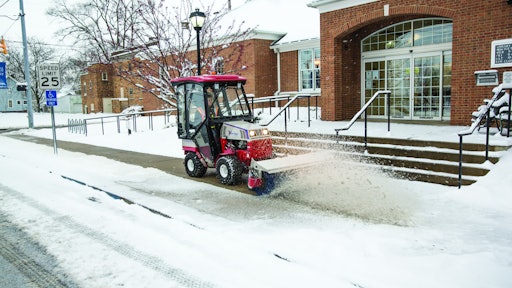 When it comes to snow removal, there are more than roads to clear. Whether removing snow and ice by shovel or machine, there are a variety of challenges and obstacles to watch for on sidewalks.
Between increasing public demand and stricter city ordinances, there has been mounting pressure in recent years to ensure sidewalks are cleared of snow during winter.
Breaking Down the Barriers
"Operators performing sidewalk snow removal need to pay attention to the environment around them," says Renae Beegle, marketing specialist with Ventrac, which produces compact tractors and snow-removal attachments. "Sidewalks have a lot of foot traffic, close obstacles, cars overhanging the edges, etc., so paying close attention is paramount. Sidewalks are such a visible and highly-used area, they must be taken care of promptly and according to the contract outlines of each site." 
Beyond the sidewalk, there are typically many landscaping elements to protect during the cold season. Contractors and municipalities need to be aware of those elements to preserve them for the upcoming spring and summer seasons.
"Maintaining the integrity of the sidewalk and protecting the grass and landscape next to sidewalks are two major challenges to consider when taking care of sidewalks," says Katie Roell, associate marketing manager with BOSS Snowplow, a manufacturer of snowplows, spreaders and snow plow parts. "Urethane cutting edges offer optimum scraping performance and are easier on sensitive surfaces to protect the integrity of the sidewalk. To protect the grass and landscape around sidewalks, drop spreaders are preferred to precisely drop deicing material."
As always, safety must also be a top priority. There are several steps companies can take to keep their workers safe when removing snow from sidewalks. Bob Iverson, product manager for snowplow and attachment maker SnowEx, suggests the following safety tips:
Practice basic safety procedures
Wear appropriate clothing
Protect yourself from cold weather
Wear high-visibility clothing
Clear sidewalks in the direction of oncoming traffic to maintain visibility
"In some ways, removing snow from sidewalks can be more dangerous than being out in a truck pushing snow in the middle of a blizzard. It's important to remember and practice basic safety procedures," Iverson says.
Which Is Better?
While more contractors are using professional-grade blades and plows for snow removal, Iverson says shovels are still a viable option, and have improved with time.
"Shovels haven't gone without their advances," he says. "Consider those that are built with ultra-high molecular weight polyethylene. Though this might just look like simple plastic to some, these poly materials are petroleum products, meaning there are oils present that help prevent snow from sticking to them. This helps save the operator time, and annoyance."
Wheeled shovels are worth a try, as well, he says.
"Wheeled push shovels are much more effective than they might look," Iverson says. "Many snow events wouldn't make sense to use a vehicle-mounted plow, but the snow still needs to be removed. These push shovels can make quick work of an inch or less of snowfall, while putting very little stress on the person doing the job."
There is no replacing the efficiency, effectiveness, durability and safety of professional equipment, however, he says.
"For those who are having to maintain the sidewalks, they know that this application is more labor intensive," Iverson says. "And more dedicated equipment can help them get the job done better, quicker and safer. Also, the public is increasingly more demanding about sidewalks being cleared. That leads to municipalities either having to be better about doing this maintenance or putting pressure on a contractor to complete the job. In the end, more effective equipment solutions reduce that pressure, which is better for everyone involved."
From utility task vehicles (UTVs) to walk-behind spreaders, professional snow removal equipment allows contractors to complete jobs faster.
"Today, there are multiple professional-duty tools – plows, spreaders, sprayers – built specifically for use on UTVs," Iverson says. "There's just no comparison between what a person can do with a UTV and what they can do with a shovel. And it will be much safer because the operator isn't as exposed to the elements and traffic when in the UTV's cab, nor do they risk the injuries associated with pushing/lifting shoveling snow."
Adding professional equipment can also improve a contractor's bottom line.
"Keeping walkways, sidewalks and doorways open for business can be a profitable addition to a contractor's snow and ice operation when done efficiently and effectively," Boss' Roell says. "To best combat labor challenges and maximize on-the-job productivity, having the right equipment is key. While shovels and walk-behind spreaders can get the job done, finding enough shovelers can be a challenge, not to mention labor costs chew into the profitability of the job. Powered equipment saves on labor and time, ultimately making the contractor more profitable."
Professional equipment also offers improved safety, Ventrac's Beegle says.
"Users of professional equipment will benefit from better results, higher employee retention, and most importantly, safer sidewalks and lower risk of slip-and-fall incidents," she says.
Hit the Ground Running
When it comes to clearing snow and ice from sidewalks, contractors and municipalities should look for equipment that can negotiate narrow spaces.
"The best sidewalk machines are maneuverable enough to get around in the tightest of areas and powerful enough to handle any type of winter event," Beegle says. "The best equipment will also handle de-icing needs as well as the actual snow removal. Lastly, the best machines are easy to use, reliable, and suitable for operators of all skill levels."
Roell recommends a stand-on snowplow like the BOSS Snowrator. The 4-ft. hydraulic plow allows users to brine, spread and plow simultaneously.
"It reduces the need for shovelers, maximizing productivity and efficiency whether in metro commercial or residential environments," she says.
Meanwhile, Iverson suggests a UTV equipped with a plow and a brine sprayer.
"Our UTV V-plow is designed to match the widths of varying sidewalks," he says. "It can be used in the V position to first push through the sidewalk snow pile, throwing the snow to either side of the walkway. Then it can be used in a straight position and angled to either side to push remaining snow and clean the sidewalk down to the pavement. Once the snow is removed, they can use the drop spreader to apply granular salt to the surface to remove the ice."
No Strings Attached
When it comes to selecting features for snow removal equipment, attachments are key.
Iverson suggested that one particularly beneficial addition to any machine is a spray wand.
"If looking into a sprayer, consider one that has a peripheral spray wand integrated with the machine. Typically, a contractor isn't just charged with clearing snow/ice from sidewalks, but also from steps, landings and entryways where plows can't reach," he says. "A spray wand allows the operator to walk away from the machine and apply brine in hard to reach areas. Then, after the snow event, the snow can easily be pushed away with a shovel. And, to repeat, look for equipment that is specifically built for sidewalks. Plows and spreaders sized for sidewalks and compact spaces will simply do the job much better."
Keep in mind attachments that can help with ice removal, Roell says.
"Snow removal is only half of the game," she says. "Ice control on sidewalks and walkways is a major concern for businesses and cities. Having equipment that can both effectively remove snow and manage ice is imperative. The Exact Path drop spreader designed specifically for sidewalks, precisely drops deicing material to protect grass and landscaping. Exact Path reduces salt waste and makes deicing sidewalks and walkways more profitable for contractors."
While drop spreaders for deicing may not look sophisticated, they are highly effective, Iverson says.
"Many advances have been made to make these perfect for sidewalk maintenance," he says. "First of all, they are being sized for sidewalks, making it possible for treatment in one pass, while not wasting any material. And with today's greater focus on environmentally friendly approaches, especially when it comes to chlorides, the drop spreader checks all of the boxes for what someone would want when spreading material on a sidewalk."
Other features, such as ergonomic-friendly design, is also important.
"We recommend a machine like Ventrac's SSV (Sidewalk Snow Vehicle), which has the ability to add multiple different attachments and a host of ergonomic features to keep operators comfortable and boost efficiency," Beegle says.
The efficiency of stand-on machines is tough to beat, she says.
"If somebody is relying on handheld equipment and lots of laborers, they're really behind the times," Beegle says.
Manufacturers have increasingly modernized equipment, with advanced solutions for the age-old weather scenario. Consulting with your local dealer can help you decide the best tools for your cold-weather jobs.