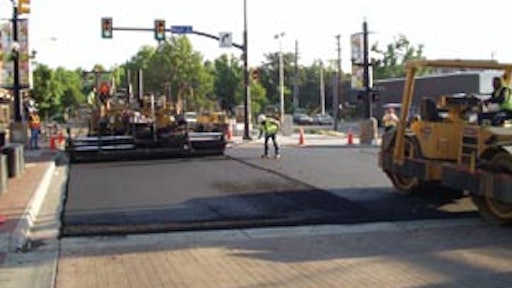 A "mill and fill" repaving project is generally a straightforward asphalt rehabilitation approach to correct surface flaws in an old road and extend its life cycle serviceability for another 15 years or so. And in the wide-open spaces of a rural environment, there are not a lot of logistical challenges in executing the approach, but a busy urban environment is a whole different story.
Lafarge West Inc. recently completed just such a project for the City of Boulder, CO, and Project Manager Scott Young will be the first to tell you that the success of this $800,000 rehabilitation required a well-planned coordinated effort on the part of all involved.
Lafarge served as the general contractor on the Pearl Street Mall Loop resurfacing project, with milling subcontractor Alpha Milling, traffic control subcontractor American Barricade, striping subcontractor Pavement Services, concrete subcontractor Keene Concrete Inc., and materials QC testing subcontractor Kleinfelder Inc. making up the rest of the construction team. Working closely with the City of Boulder Public Works Department's Transportation Team, as well as the businesses located in the construction zone, Lafarge managed to complete the project a week earlier and with minimal disruption to the daily activities of Boulder's thriving business, cultural and recreational centerpiece.
Project location
The Pearl Street Mall is the heart of downtown Boulder. Pearl Street and the adjoining street network were developed with the city in the mid 1800s. Pearl Street was converted into a pedestrian-only mall in 1977. The Pearl Street Mall Loop or "Loop" is a one-way network of roadways that provides the primary circulation around the Pearl Street Mall and downtown Boulder. The Loop is comprised of four streets:
11th Street from Spruce Street to Walnut Street
Walnut Street from 11th Street to 15th Street
15th Street from Walnut Street to Spruce Street
Spruce Street from 15th Street to 11th Street
The roadways are within a designated historic district, as well as a business improvement district. Lining all of the streets is a continuous strip of various commercial business operations, including hotels, restaurants, night clubs, various retail/service establishments, office buildings, churches, civic buildings, parking garages, post office and other businesses. The area is a primary revenue generating district within the City of Boulder. The heavy concentration of businesses required a well planned construction and public relations effort.
The Loop was last resurfaced in 1989. Maintenance activities since then have consisted of patching and some limited crack sealing. The Loop resurfacing was identified as one of the Boulder's planned 2005 resurfacing projects. The scope of the project consisted of two primary construction phases:

Miscellaneous concrete work including repair of curb and gutter, valley pans, driveways, sidewalks and upgrade of all of the 110 pedestrian access ramps, including installation of ADA-required truncated domes at all of the ramps.
Isolated full-depth patching of selected areas, full-width milling and placement of a new two-inch hot mix asphalt overlay of the entire Loop, including portions of the side-street approaches. New inlayed preformed plastic pavement markings were also to be installed.
In project planning meetings, Boulder city officials and primary contractor Lafarge met with downtown business representatives to review the scope of the project and discuss ways to minimize construction impacts to the area. Key issues identified:

Complete the concrete work in early spring.
Suspend any work during May when the University of Colorado holds its graduation and other downtown events, like Boulder Creek Festival and Bolder Boulder are held.
Complete the patching, milling and paving operations during June, which has historically been the summer month with the lowest business activity in the downtown area; and minimize work activity on Thursday through Saturday evenings.
Knowing that the majority of the work would have to be done at night, Lafarge spent a week studying existing conditions in order to create an efficient patching, milling and paving plan. The street widths and striping configurations varied, which required some creativity on the contractor's part. Instead of looking at the streets as wide-open paving, Lafarge concluded that breaking the project into distinct segments would reduce transverse joints, mitigate traffic impacts, and minimize the measures needed to protect the existing concrete roadways and walkways from wheel tracking of tack coat.
Careful planning of the new striping layouts was required and offsets were painted on the curbs to help with the placement of the longitudinal joints. When paving began, streets were carefully cleaned and string lines were put into place for the longitudinal joints for the paver to follow. Rolling patterns were quickly established with the participation by Lafarge's quality control and materials testing personnel. Once the milling and paving commenced, the roadway surface, curbs and sidewalks were cleaned and rubble removed continuously. This was important for project visibility in the downtown area.
Aggressive construction schedule
Since the Loop was Boulder's highest priority in its 2005 resurfacing program, Lafarge had to implement an aggressive schedule to complete the milling and paving work during its limited project window. With all concrete work completed earlier by subcontractor Keene Concrete, Lafarge's plan of attack included:
Pre-lowering all utility manholes and water valves to accelerate and minimize potential problems during the milling operation.
Completing all patching, milling and overlay operations during the evening hours (9 p.m. to 6 a.m. Sundays through Thursdays) between June 5-29; and completing all utility manhole adjustments during daytime hours with isolated off-peak lane closures.
Assisting the city with outreach and communications with affected businesses.
The city accommodated Lafarge's aggressive schedule by granting a noise variance for evening work, allowing isolated night closures of project segments, coordinating quality control testing by Kleinfelder Inc., and providing public information through hand-carried flyers, frequent press releases and email updates.
The resurfacing phases of the project were completed as follows:
220 tons of full-depth patching during the evening hours of June 5 through June 9.
12,000 square yards of full-width milling of the entire south half of the project during the evening hours of June 12th. Alpha Milling outfitted two milling crews with Wirtgen W 2000 milling machines to remove approximately 1 ½ inches of surface course .
1,400 tons of overlay on the south half of the project during the evening hours of June 14th and June 15th. Lafarge used a Cat 1055 AP track paver to place the new 2-inch surface course, and a Hypac C778D vibratory roller to obtain density specs, followed by a Hyster C350 10-ton static roller to finish the surface.
10,000 square yards of full-width milling of the entire north half of the project during the evening hours of June 19th.
1,300 tons of overlay on north half of the project during the evening hours of June 20th and June 22nd.
40 utility manhole final adjustments during daytime hours on June 27th, 28th and 29th.
Project complexities

While resurfacing projects are fairly basic in the technical nature of the work, the Loop project posed its own set of unique challenges due largely to the urban environment, which required minimal disruption to the business commerce. Profilograph smoothness specifications were not required, due to the 25 mph speed limit and urban nature of the project; however special attention was paid to smoothness during the paving operations. Several complicating factors which had to be dealt with in completing this project, included:
Since the Loop is the only access to downtown businesses, including restaurants and night clubs, special sequencing of night work was required to provide roadway access to these businesses.
Since parallel and diagonal parking line the entire project length on both sides of the roadways, no parking zones were posted 72 hours prior to each construction phase, but approximately 15 vehicles had to be relocated each night.
With tight urban space constraints, like center median diversion islands at each of the four primary corners of the Loop, creative construction approaches were required to meet deadlines and deliver a quality finished product.
Since most of the project was to be constructed during night hours, crews had to adapt to restricted visibility
Since the project was executed in phases, temporary full-compliance markings were required, temporary pedestrian access ramps had to be constructed and attention to site cleanliness had to be maintained at all times.
With concrete pavement bisecting the project, as well as some decorative concrete walkways, special attention was required to prevent tracking tack oil across these areas.
With so many businesses affected by the construction, advance communication prior to each phase was required to minimize any disruptions to those businesses.
"The project really came together well, and the actual milling and paving portion only lasted two weeks," Young says. "Working at night allowed us to complete the project quicker, and that meant fewer disruptions to the businesses in the area."