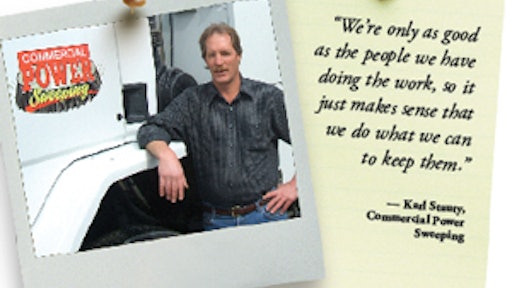 Commercial Power Sweeping, Suffolk, VA, doesn't do any advertising. None. Yet they've been growing at 30% a year for each of the past few years and Karl Stauty, president, spends most of his time visiting and bidding new jobs, generally more than 10 a week.
"It's word of mouth, absolutely word of mouth," Stauty says. "If a property manager wants something done right and he's willing to spend a little money to make sure it's done right, then he hires us."
Stauty says Commercial Power Sweeping does the job right because they hire and keep the right people.
Begun in 1986 as a one-sweeper operation with only two days of sweeping per week, Karl and Lori Stauty, secretary/treasurer who runs the night-sweeping shift, now have a 22-person company that operates 16 sweepers and employs a mechanic on call 'round the clock. The company is a founding member of the North American Power Sweeping Association and has been involved in the association since the mid-1980s.
Stauty says 90% of sales are from sweeping (60% parking lots, 40% streets). The remaining 10% of sales comes from the catch-all Building Maintenance division, begun 12 years ago to offer sign replacement, graffiti removal, and small asphalt repairs. They only offer those types of services to existing customers.
"We started that division to make ourselves more valuable to our existing customers and to give us more regular contact with them, and that's exactly what's happened," he says. "If the operator brings something to our attention and we bid it and get the job, the operator gets a monetary award." He says it's not uncommon for operators to earn upwards of $400 a month in bonuses.
"By doing that our competition just doesn't exist as far as our property manager customers are concerned," Stauty says. "We work hard for them so they're not going to switch companies just to save a few dollars."
Stauty says it's the attention to detail that enables Commercial Power Sweeping to retain customers while charging higher prices, and that, he says, is a credit to his employees.
"A service is only as good as your employees and that's the absolute key," Stauty says. "We all can hire someone and put him in a truck and hand him a routing sheet and send him out, but once he's out there what he does is based on his own ethics and his own desire to represent the company well. We have a great group of people working with us, and those people make us successful."
The company finds quality people by advertising for "operator" as opposed to "driver" because "operator" instills a different mentality.
"An ad for "operator" brings a different type of person in here," he says. "The people who work for us are operators. They are operating a piece of expensive equipment and we expect them to operate, not just drive it. We also expect them to get out of the vehicle and do what's needed on each job, and too often people applying for a "driver" opening are unwilling to get out of the vehicle."
Once it hires people, Commercial Power Sweeping makes a strong effort to retain its good employees, and the fact that some have been with the company 14 years demonstrates their efforts are successful. Stauty says that in addition to compensating employees well, the company provides full benefits, including medical, dental, and health insurance and a retirement program. They also pay for uniforms and buy each employee two pairs of boots a year.
"We're only as good as the people we have doing the work, so it just makes sense that we do what we can to keep them," he says.