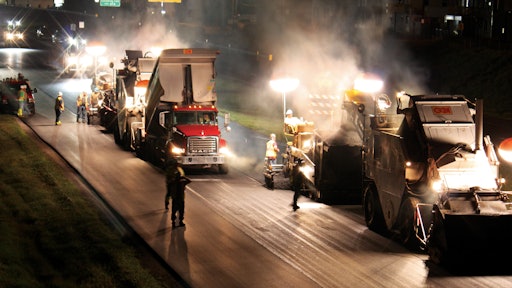 The Federal Motor Carrier Safety Admin.'s new electronic logging device (ELD) mandate might be the only regulation most businesses will see with real opportunity to save companies money. The rule requires commercial truck fleets across the U.S. to electronically log driver hours of service. Any driver who has to prepare hours-of-service (HOS) records of duty status will have to track HOS electronically starting December 18, 2017.
Webinar: Construction Pro's Guide to ELD Compliance
Federal HOS regulations have not changed. They apply to any driver crossing state lines behind the wheel of a commercial motor vehicle weighing or having a gross combined weight rating of more than 10,000 lb. The rules apply to intrastate driving — entirely within a single state — in states that enforce federal HOS regulations instead of writing their own unique rules.
Under the FMCSA's HOS rules, drivers:
Can drive a maximum of 11 hours after 10 consecutive hours off duty
Can't drive after the 14th consecutive hour on duty
Can drive only if less than eight hours have passed since end of driver's last 30-minute off-duty break
Can't drive after 60 or 70 hours on duty in seven or eight consecutive days. Drivers may restart a seven- or eight-consecutive-day period after taking 34 or more consecutive hours off duty 
Drivers must retain their duty logs for the previous seven days and submit a copy to their employers, which are required to retain them for six months.
The ELD mandate is about keeping track of the detailed of driver compliance. An ELD is an electronic device that interfaces with a vehicle's engine to automatically record driving time, for easier, more accurate HOS recording.
"Since 1938, complex, on-duty/off-duty logs for truck and bus drivers were made with pencil and paper; virtually impossible to verify," said U.S. Transportation Secretary Anthony Foxx. "This automated technology not only brings logging records into the modern age, it also allows roadside safety inspectors to unmask violations of federal law that put lives at risk."
Onboard devices now cost about $200. Back-office systems used to manage the data are web-based, eliminating special software or hardware requirements. Data subscription fees have fallen.
Drivers who file logs for no more than eight days during any 30-day period, or who drive vehicles manufactured before model year 2000 can continue filing paper records of duty status. Or both exempted groups may voluntarily use an ELD, but logs must be maintained.
The new ELD rule's requirements include:
Automatic recording of date, time, location, engine hours, vehicle miles, and identification information for the driver, the authenticated user, the vehicle, and the motor carrier
Manual input ability by the driver and motor carrier of certain information
Electronic data transmission, either wirelessly or via USB and Bluetooth
Ability to display standardized data to a safety official on demand
Inability for original ELD information to be altered or erased
Monitoring and recording device malfunctions and data inconsistencies
The rule permits the use of smartphones and other wireless devices as ELDs as long as they satisfy the technical specifications, are certified, and are included on the Federal Motor Carrier Safety Administration (FMCSA) website that will list compliant ELDs.
List of ELDs registered with FMCSA's site
The FMCSA doesn't actually certify any ELD products; they're self-registered on the site by ELD makers.
"Don't toss prospective ELD vendors off your list just because they don't have a device registered with the FMCSA site yet," says John Gaither, commercial sales and ELD product specialist at telematics vendor GPS Insight. "A reputable company will only register after their device has been tested completely against the 500+ pages of regulations of the ELD Mandate (released December 17, 2015) and the 400+ pages of the Test Plan and Procedures document (released on March 11, 2016). Two of the three vendors currently on the list registered within only a couple of days of the test procedure being published."
The ELD rule allows use of automatic on-board recording devices (AOBRD) installed before December 18, 2017 until December 16, 2019.
Low entry price of BYOD (bring your own device) ELD apps that can be loaded onto drivers' smart phones is attractive. Those devices focus on compliance, while in-cab ELD systems often offer greater return on investment by virtue of their ability to record and communicate other operating data.
"Almost everyone starts with pricing; that's normal," says Gaither. "But you should really dive into the overall cost of ownership to see if you can achieve the ROI (return on investment) you expect by having access to other data that may not be found in those low priced solutions."
The ROI of ELDs
A study released by FMCSA showed fleets equipped with electronic logs experienced:
53% lower driving-related HOS violation rates
49% lower non-driving-related HOS violation rates (such as form and manner)
"When you deploy an ELD solution, most of the things they call 'form and manner' issues will go away," says Gaither.
ELD systems typically require just a minute to log in and a few seconds to change duty status, if the system doesn't do it automatically. The systems automatically place the driver on the driving line when the vehicle is moving and automatically place the driver on duty when the vehicle stops (unless the driver overrides it).
With the ELD handling the most-frequent logging chores, the driver is responsible only for entering exceptions such as changing trailer information or shipper info between loads. "The rest of the data will be current, accurate and legible," Gaither adds. "This is a terrific way to decreased the risk of citations during road side inspections (form and manner and inaccurate record of duty status violations are the two most commonly issued roadside citations)."
The FMCSA's logging-device study also found that carriers using AOBRDs/ELDs cut their DOT-recordable accidents by an average of 12% and their preventable crash rate by 5%.
Operational Benefits of ELDs
Drivers submit electronic logs at the end of their work day. Some systems automatically audit logs for form and manner errors, limit violations, and accuracy (by comparing it to other data provided to the system). Violations will be flagged immediately so action can be taken with the driver to ensure the problem is not repeated.
"Selecting a GPS tracking platform that also enables ELD is a good idea if you are interested in GPS tracking," says Gaither. "Using GPS tracking can give better insight into fuel expenses and state mileage for IFTA (International Fuel Tax Agreement) reporting purposes. It can help you streamline your maintenance costs, and give you a better understanding of driver productivity, driver safety, customer service and other related issues."
An ELD system with IFTA reporting capabilities can automatically collect all route line and mileage data, accept input of fuel purchase data from the carrier's fuel card provider, compile the data, and create the required reports all with minimal labor.
Vehicle data, courtesy of connection with the vehicle's engine control module (ECM), can be integrated with some ELDs to offer insight into defensive driving behavior. Drivers who are managing their speed and road position will have lower top speeds, a lower average speed, and very few hard-braking incidents. The information allows you to intervene to reduce the chance of accidents with drivers who aren't driving defensively.
Not only do ELDs track speed, but they can also record engine idling time and transmission shifting behavior – information you need to coach drivers on how to improve fuel economy.
The many ways information from an ELD may just make the FMCSA's mandate a regulation with a silver lining of improved safety and operating costs for many trucking operations.