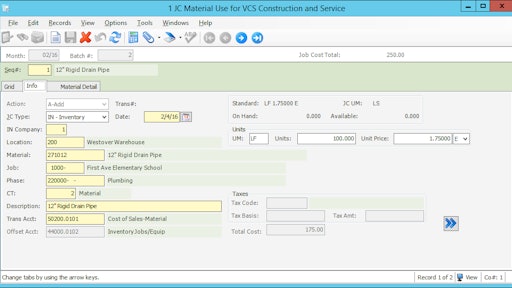 Viewpoint
By Don Talend, Contributing Editor
Adopting estimating software allowed Sierra Construction to target specific profit margins on jobs and tasks, but the real boost to company's bottom line didn't come until they integrated project management with the estimating system.
According to Mike Zaluski, general manager of Sierra Infrastructure, the Woodstock, Ontario, -based firm's division that builds municipal water systems, wastewater treatment plants and sewer and water mains, the company primarily used Excel for estimating until 2009. Estimating benefited somewhat from improved job costing when Sierra started using Bid2Win software, now known as B2W.
The bidding software allowed estimating based on the costs of different machine and labor class inputs, whereas Sierra had previously tracked only overall crew costs and machine hours with its Excel-based process. But job costing still lacked the detail required for the kind of forensic accounting estimators need to build in and protect profit margins.
When Sierra added Viewpoint Vista project management and financial software in 2015, the company began to get a handle on its true costs, Zaluski says. Prior to that, "Our job costing was very inaccurate," Zaluski says. "It mostly told us how much labor was spent and how many materials were purchased and it wasn't broken down into the types, so we weren't really able to break down our costs. Now everything gets sorted out so we can drill down into the actual components and we know the exact costs of labor and equipment and what makes them up."
Prior to using the new project management and financial software, "A lot of costs went into what I'll call almost overhead that didn't get allocated to jobs properly—the controls weren't there," Zaluski says. "Fuel for machines is a good example. In the past, we had a big fuel bill at the end of the year and we would divvy those up across all of the projects."
The Vista software centralizes digital versions of all invoices by project so that they can be allocated to the correct inputs and project managers have a central location for approval.
Now, "We have a target profit, not only by project but by task so that we can tell how much profit and overhead we anticipate making on each task," Zaluski says. "Then, as we track that task and how much time was spent on it and how much material was used on it, we can see which tasks are above or below the estimate." When a project is complete, Sierra can analyze project profitability, both overall and by individual inputs such as materials. Also, the company can track individual change order inputs and determine the change order's profitability.
Also, by monitoring projects with monthly profitability reports, Sierra can adjust cost inputs even before completion in many cases. For example, a given project might be overstaffed, which often correlates to equipment underutilization. Or a project might be using 20% more gravel than expected at a given phase, so Zaluski will start asking questions that potentially lead to a reduction.
Taking a more strategic approach to bidding
Improved visibility to job costs has given rise to a more strategic approach to bidding projects. While company revenues have remained steady for now, Sierra is equipped with more insight into its operating costs and is pursuing more high-margin projects and forgoing less-promising projects.
Now the estimating process is more efficient, too. Zaluski can delegate many estimates to a junior estimator and check the rationale behind costing against objective historical cost data if necessary.
Training and changing old habits
To get everyone up to speed on the Vista software, Viewpoint sent someone to train Sierra's implementation team, which consisted of two employees from accounting and one employee from each of the company's other divisions. Then, the company held a full day of training for the rest of the staff and the implementation team manager provided ongoing training for project managers.
The learning curve for Vista was a fairly short one, Zaluski says. He adds that more-experienced employees may have resisted changes in habits – for example, recording project documentation with pen and paper. He attributes the contrast to less-experienced employees learning new habits, rather than having to replace old ones.
The result: Better profit margins
The number of projects Sierra has bid on has increased 40% to 50% since the company integrated the B2W bidding with Vista software, according to Zaluski. Sierra is bidding on fewer private and municipal projects in favor of what Zaluski describes as more complex, management-heavy projects such as a recent light-rail transit project as a subcontractor. Greater complexity means greater business diversification for Sierra in the short term and Zaluski expects the average contract amount and thus overall revenue to increase in the longer term.
"Our win ratio is a lot lower, but we get to throw more darts out, so to speak, and we're able to bid more jobs at potentially higher margins," he says. Most importantly, the use of the bidding and project management software has boosted Sierra Infrastructure's overall operating profit margin by a few percentage points, he reports.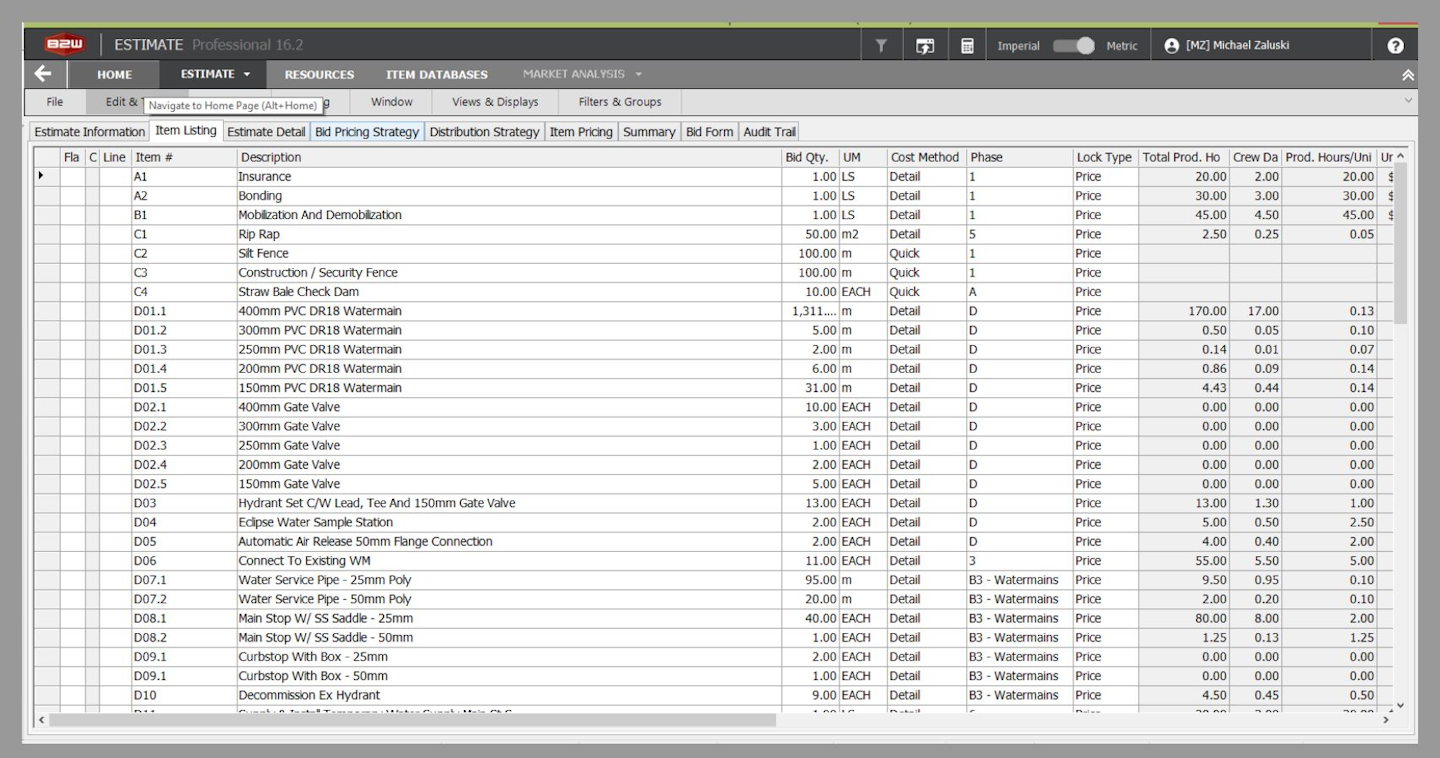 Sierra Infrastructure, Woodstock, Ontario, uses estimating software that allows inputs of comprehensive unit costs by input category. Also, the Viewpoint project management software it adopted in 2015 makes it easier to capture the true costs of project inputs.B2W
Companies in this article