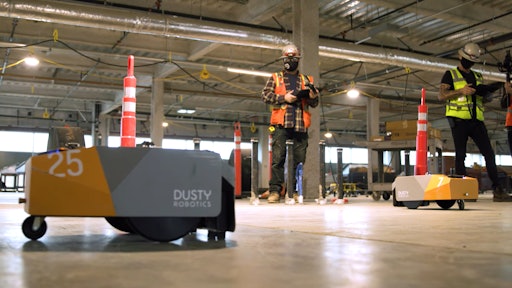 Dusty Robotics
Mountain View, Calif.-based construction robotic solutions provider Dusty Robotics announced May 10 that it has closed a $45 million Series B round, bringing total funding for its FieldPrinter robotic layout robot to $68.7 million.
From a funding standpoint, they are well ahead of their chief rival, Houston-based Rugged Robotics, and with this funding can scale their go-to-market and manufacturing to ensure market dominance. Another company in an adjacent space, TinyMobileRobots, has been used for site layout but can only print lines and not other data from a plan set or building information modeling (BIM) application as can FieldPrinter.
The round was led by Scale Venture Partners and joined by returning investors Baseline Ventures, Canaan Partners, Root Ventures, NextGen Venture Partners, and Cantos. The company will use these funds to grow its team, expand its product offerings, and accelerate manufacturing with the goal of deploying Dusty products on all construction sites in the U.S.
Scaling Robotic Site Layout
Series B funds typically come after a startup company has proven market acceptance and a growing customer base, and in a debriefing with ForConstructionPros the day after the announcement, Dusty Robotics Founder and CEO Tessa Lau said they were experiencing strong uptake among large nationwide general contractors. In Q1 2022 alone, contractors Dusty's FieldPrinter solution to print floor plans on 25 million square feet of construction. The robot can handle site layout ten times faster than humans with a string line and chalk and can achieve accuracy within 1/16th of an inch. The robot must be paired with a Leica Geosystems total station that communicates geopositioning data through an on-board prism, and also needs a clean, dry surface.
The robots consume standard HP ink cartridges and can also use printers from other manufacturers.
"We have a standard ink cartridge available through our online store," Lau said. "The printer can generate lots of different colors. HP and a number of other companies make cartridges that are compatible, but we have vetted them to determine which work best with our printer."
Dusty Robotics technology enables drywall, mechanical/electrical/plumbing and general contractors to map out on the floor of a project site data from a building information modeling (BIM) file, replacing chalk lines traditionally used to lay out wall locations, door rough openings, soffits, hanger points and labels, wall penetrations, ductwork runs, equipment labels, piping and fire sprinklers, room labels, finish schedules, casework, offsets, door swings and more.
But according to Lau, one thing holding the company back has been the supply chain. Dusty Robotics sources parts and components that are assembled in a final manufacturing process at the company's Mountain View headquarters.
"The biggest thing is limiting our growth is not being able to build as many of our printers as we wanted to," Lau said. "That is due to the supply chain, and also capital constraints. With this capital infusion, we are unblocking those things. We have had two-year lead times on some of the parts going into our printers. One of the challengers we had was sourcing motors. A lot of what we are planning to do is unblock those constraints, and as you increase the size of your orders, you get a higher priority from the manufacturers."
Lau is also growing her team, and has hired a director of manufacturing to oversee both assembly and the supply chain, along with additional engineering staff to evolve the product further.
The recently-released iteration of the robot will also help the technology scale and reach more contractors thanks to enhanced usability.
"We just released our 1.0 version with improvements," Lau said. "This is the first version that we think is mass marketable—usable by all of our customers. On a site, the foreman is usually the one operating the robot, and sometimes that may be a younger, tech-savvy guy—but sometimes it will be the guy who is about to retire. One of the big things we just developed and released in 1.0 is the ability to work on more congested job sites. Typical job sites have lots of material stacked around, or other trades walking the floor. You cannot get as clear a floor as you would like to. We are also often operating on sites with reshores floor to ceiling for the concrete. Our clients want to produce layouts despite presence of these posts."
The workaround was to equip the robot with the ability to work around obstructions.
"Our system can sense and avoid obstructions," Lau said. "We have a couple different sources of information on the location of these obstructions to work with. Because we are a layout robot, we have the plan of the floor, and typically that includes where the slab, floor and columns are. But reshores are typically not mapped, so we added a bumper, like you would see on a Roomba-style vacuum robot. If the robot bumps something, it will turn around."
Lau said they plan on adding more ways for the robot to sense its surroundings, but it is currently not equipped with ultrasonic sensors or cameras in the interest of simplicity. The ingestion of visual information would then also require a machine learning process to teach the robot how to identify and interpret inbound images or captured site data and re-route accordingly.
Handholding for Robot Users
While the robots automate the printing of lines and model data on surfaces, Dusty Robotics provides human hand-holding to assist their customers getting workable data into the robot. The robots print from common .DWG files, but there are some tricks to structuring the files for success.
"We typically work off coordinated BIM models," Lau said. "We help our clients with their BIM coordination and mapping of layout on the floor. We assist our clients to prepare data for robot printing, and how to prepare to print most productively. Then from there, our printer is controlled with a Windows tablet. Once you get the data onto that Windows tablet, you can start printing."
The robot firmware and tablet application are updated frequently, and subscribers get unlimited upgrades.
"We have constant software development going on, and use an agile sprint process," Lau said. "There is a new version every two weeks. Then, we go through a period of tests and release once a month if not more often. We try to be very responsive to our clients—if any of them are experiencing an issue, we try to release a fix right away."
Market, Pricing and ROI
The robots are currently used primarily by large general contractors on multiple projects at once. The robot comes in a flight case, so an operator can take it with them as they fly from one project to the next.
"DPR Construction is one of our biggest customers," Lau said, referring to the Redwood City-based self-performing general contractor. "They have four of our printers, and used them on 16 projects."
Large nationwide generals running multiple projects simultaneously are one market for the printer, but the addressable market can include smaller generals and specialty contractors—as small as those with $10 million in project revenue per year.
"One of our biggest successes is a single-family residential contractor in New Jersey," Lau said. "They self-perform a number of the trades and use our robots to perform layouts for all of the different trades on site."
Most contractors who can keep a robot busy 75 percent of the time, according to Lau, opt for a long-term robots-as-a-service subscription that includes a FieldPrinter, custom total station and tablet controller. Also included is a week of training, ongoing updates and support. Contractors in North California and Seattle can also opt for a special daily rental rate with a service wrap-around to ensure project success.
"In construction terms, this is not like hiring hourly workers—partnering with Dusty is like hiring a salaried employee," Lau said. "Our subscription customer can take that printer, run it on any job site, and ship it from one project to the next in an airline approved case."
Return on the operating expense comes from a few sources, including increased speed and accuracy and the ability to compress the construction timeline.
"If you have something as accurate as a robot, you can trust that the project is being rendered correctly," Lau said. "Communication is important too. One of the things we found is that when you have a coordinated model printed out there on the floor, all the trades are working together, and that compresses the timeline. It also eliminates time wasted trying to find information because you can just look at the work surface and see what it is you need to construct. FieldPrinter decreases materials cost because you don't have to build the same thing twice, and you then spend less time as well dealing with rework. Safety and wellness improve because you don't have workers hurting their back and knees performing this work."