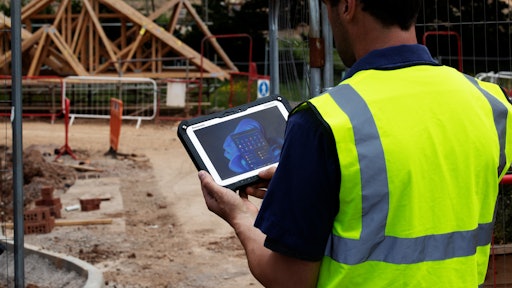 Panasonic
The smartphone has changed construction. Whether a contractor has a bring-your-own-device (BYOD) policy or issues designated hardware for use in the field, that smart handset or tablet has embedded contextual data streams like geolocation, data capture through photos, bar code scanning and other capabilities that can inject new insights and capabilities into construction software.
Mobile Device as IoT Data Collection
Most software for construction will now offer native applications for iOS and Android platforms. A few bootstrapped startups coming up in the space now are finding product market fit on a browser interface and then adding mobile applications later. Even if the interface makes good enough use of space on a small device screen to be used on a mobile handset instead of a laptop, these native applications make better use of the underlying handset's features.
Are All Construction Apps Created Equal?
To be clear, these apps are not stand-alone products. Mobile apps for business setting will use mobile applications as a secondary or sometimes a primary interface for a software-as-a-service (SaaS) product sold by subscription. Most fully-featured construction software will offer one or more apps for functions that need to be performed away from a laptop, preventive maintenance, like filing expenses, entering worker time, reporting productivity, forms for inspection or customer sign-off on work. In some cases, bootstrapped construction SaaS startups will establish product-market fit with just a web interface. In the paving software segment, two examples include PavementSoft and Pittbos. Pittbos is making moves to add a mobile app, and PavementSoft may not be far behind as they ramp up their business.
But once a construction software product includes a mobile app, contractors will want to come to understand some essentials about it.
What features or functions does the app deliver? This is often a narrower subset of functionality offered in a web interface due in part to the real estate on the screen and the fact that the mobile app may be used by workers on site or perhaps supervisors while management will rely on the web interface. Products designed specifically for smaller contractors or sole proprietorships like Jobber or Service Titan may support a broader spectrum of business functions on mobile devices than those aimed at the enterprise, in part because owner-operators work from the field. There may be more than one mobile app associated with a software product, each for different defined roles or use cases.
How does the app respond to interruptions in service? Most modern native applications can work offline, archiving transactions until a connection is re-established.
Does the application update itself automatically? Some apps, due to the technologies they were built with or the settings the vendor uses when they provision them to app marketplaces, will push updates to mobile devices without end-user involvement. This can ensure everything from the latest security patches to new functionality are available in real time.
How many of the functions of the handset can the app leverage, and how gracefully? Native apps will often make better use of handset features—IFS Cloud in October of 2022 even added app support for lidar distance measurement, for devices that are suitably equipped.
Equipment management software and time clock software both may leverage geolocation data from the mobile device, enabling features like geofencing and geographic context for transactions like clocking in and out, arriving on a site or photo updates in field notes.
The Cloud and Mobile
While mobile apps used in business are generally really user interfaces for solutions located in the cloud, the fact that many powerful and venerable construction business software products are being run on-premise or in a managed services environment means mobile becomes an interesting way to extend the lifecycle of these products.
Construction software designed for on-premise, usually with a cloud option from the vendor or third party, making it more available away from the office, exposing narrow slices of functionality in the underlying application or adding new functionality in a modern, mobile-friendly user interface. Construction enterprise resource planning (ERP) software vendors in particular are extending these mature solutions either with their own apps, or increasingly relying on partners or independent software vendors (ISVs) to create not just native mobile apps but broader enterprise applications. This makes it easier to interact with the system of record from more places, cutting time lag out of business processes.
One example will be AvidXchange, tacks accounts payables automation onto Sage construction solutions including Sage 300 Construction and Real Estate and Sage 100 Contractor with a web interface that may be the sole tool used by accounts payables people. AvidXchange pulls in invoices from suppliers, uses OCR technology and artificial intelligence (AI) to extract information and routes it to users across different device types for review and approval. In settings like this, the mobile app can keep processes moving that otherwise would be delayed until an approver or reviewer was back in the office.
"We have to follow ERP adoption patterns," AvidXchange Vice President of Construction Sales Jim Campbell said in a 2022 IRONPROS debriefing. "Sage 300 CRE, formerly Timberline and Sage 100 Contractor, formerly Masterbuilder—are on-premise, older technology. The migration path for those two products is going to be towards the Intacct Construction edition. For Sage, that is the stated migration path over time. We want to follow in step with that. We did Sage 300 CRE first—there are several thousand customers on that software and we have several hundred on our platform. Our TimberScan Titanium is a SaaS-based product. We still read the Sage data, pulling it up into our server in the background including all the data like cost codes. Invoice approval can be done on mobile, so payment and release of funds can proceed."
Companies in this article