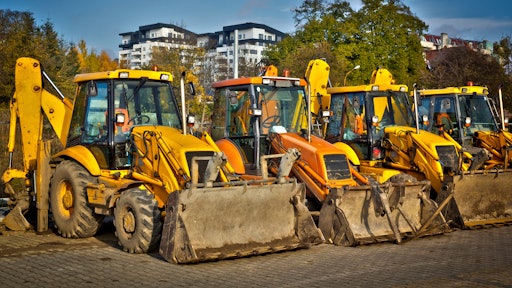 If you live in an area of the country that experiences winter weather, you usually have two options: winter is an off-season where your employees and equipment site mostly or completely idle; or, use your assets for winter work such as snow and ice removal.
If you choose the first option, the obvious downside is you're not making money during the winter months. If you choose the second option, and do not have the equipment needed for this type of work, you might be looking at investing money in new equipment.
However, there is a solution to both these situations: peer-to-peer equipment sharing. Peer-to-peer equipment sharing is a way to rent equipment to generate revenue — or be a renter and not have to invest in owning a piece of equipment you may only need short-term.
Would You Rent Out Your Idle Construction Equipment?
There are many options available for peer-to-peer (p2p) sharing. ForConstructionPros.com recently spoke with p2p network DOZR to get a better idea of what p2p equipment sharing can offer construction contractors, especially during the winter season and other idle times.
Whether you're looking to rent your existing equipment out or looking to rent specific equipment for your company, networks and p2p services like DOZR are great places to connect with other contractors. Can't find what you are looking for at a rental yard or can't afford to purchase equipment outright? Look for it through p2p sharing. Don't want to struggle making payments on your equipment during idle times or just want an additional source of revenue? Rent it out through p2p sharing.
"Equipment prices are rising but there's a lot of optimism about the jobs outlook for the next few years, so p2p sharing can help contractors get the equipment they need, when they need it, without taking on the risk of a new equipment purchase," says DOZR CEO and Co-founder Kevin Forestell. "Rental companies can also provide equipment contractors need, when they need it, but may not have more specialized machines. DOZR users are definitely on the platform to find uncommon equipment, and they also tend to save money over traditional rentals whether they're renting common or specialized machines."
Snow season is an ideal time for p2p sharing. If a contractor does not do snow removal work, he or she can still benefit from increased demand for these services by renting equipment to contractors who are taking on snow removal contracts, Forestell says. With DOZR, contractors can list their rentable equipment for daily, weekly or monthly rentals. And, they can set their own prices, he adds.
"Revenue generated from p2p sharing can have a pretty big bottom-line impact, too. If you're collecting a few thousand dollars a month renting your tractor to other contractors, you'll offset your own costs of ownership. If you own equipment outright, that few thousand dollars a month from rentals becomes mostly profit, minus your upkeep costs," Forestell says.
Speaking of upkeep and costs, those are often some of the first questions contractors new to p2p sharing may have. What if something happens to the equipment? Who is responsible for maintenance while equipment is being rented?
Forestell says DOZR focuses on minimizing risks for contractors renting or lending on its platform. While he says it is rare for these types of issues to occur, DOZR still wants to make sure all its renters are covered and have peace of mind.
"We have a unique insurance product that fully covers lenders. If anything happens to a machine, we make sure the equipment owner isn't without the equipment they need for their job. Then we work with the renter and their insurance company to figure out the liabilities," he says.
When it comes to maintenance of rented equipment through DOZR, Forestell says day-to-day maintenance like tire replacements or lubrication of moving parts generally falls to the renter. Less frequent upkeep needs like oil or brake pad changes are typically the equipment owner's responsibility.
Keeping the focus on peace of mind and minimizing risks, Forestell says the DOZR team works closely with clients to make sure:
All parties involved have the necessary training and insurance to safely operate equipment and cover the cost of any damage
Make sure the job a renter plans to do makes sense for a specific machine
Make sure machines are in great condition
"Both lenders and renters need to inspect machines before and after the rental period so there's transparency on both sides about machine quality," Forestell says.
Some contractors may want to take a stab at p2p equipment sharing on their own. If you're comfortable being in charge of all the details or renting or lending your equipment that could be a great solution. However, if you want to reap the benefits of p2p sharing without taking on all the responsibility, using a service like DOZR might be the best place to start. DOZR even helps contractors rent their equipment across state or even continent borders.
Have you tried peer-to-peer equipment sharing either through a service like DOZR or on your own?
Would you be willing to rent out your equipment to other contractors or rent needed equipment from another contractor?
What do you think are the advantages or disadvantages of p2p equipment sharing?
Please share your thoughts and comments with ForConstructionPros.com.
Companies in this article