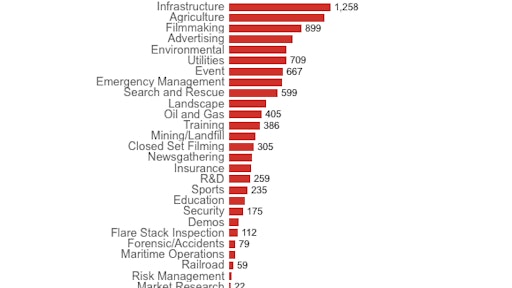 A new report from the Association for Unmanned Vehicle Systems International (AUVSI) indicates that construction and infrastructure are at the forefront of commercial unmanned aircraft systems (UAS) adoption. The FAA has granted 1,800 exemptions for infrastructure and construction, nearly 60% of all exemptions requested.
Since 2014, the FAA has approved over 4,600 petitions for use of UAS. The infrastructure and construction sectors account for nearly 40% of those exemptions.
The AUVSI report also found businesses in Florida received the most exemptions to use UAS for construction and infrastructure (192 exemptions). California came in close behind with 191 exemptions and Texas followed with 166 exemptions.
Exemptions granted for construction and infastructure use has risen dramatically since March 2015, reaching a peak of 263 in October 2015. January 2016 started off the year with 216 exemptions granted.
Finally, according to the AUVSI report, nearly all of the 1,781 companies using UAS for construction and infrastrucutre application sare small companies with fewer than 10 employees and less than $1 million in revenue.