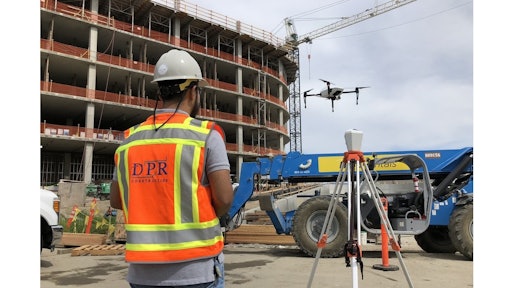 DPR Construction signed an enterprise-wide agreement with Skycatch, creating a new model of unmanned aerial vehicle (UAV) standardization available for all of their project sites.
An early adopter of technology, DPR realized the potential of precision aerial data when they started experimenting with UAV solutions in 2013. After years of individual sites across the U.S. recognizing the ROI and job site efficiency benefits, DPR decided it was important to offer a standard solution company-wide.
The service agreement gives more DPR projects the opportunity to take full advantage of drone technology with streamlined implementation and centralized costs and support.
"We've seen Skycatch deliver results in a variety of applications and settings," says Hannu Lindberg, leader of DPR's Virtual Design and Construction (VDC) team. "We believe Skycatch offers the best opportunity for us to deliver our projects more efficiently at scale."
Ability to share data with a wide range of users, from the design team to the subcontractor, enhanced DPR's communication and efficiency immediately. Project teams appreciated the clean and modern user interface and simplicity of the web platform for processing, viewing and analyzing data. Management was convinced by the enterprise-level project collaboration. Various project teams listed Skycatch responsiveness to DPR needs and requests as important factors that set the vendor apart.