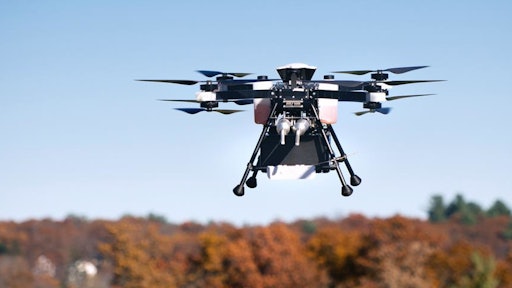 Top Flight Technologies Inc.
Aizawa Concrete Corporation will partner with Top Flight Technologies Inc., a Boston-based provider of heavy-lift, long-range (HLLR) hybrid-electric unmanned aerial vehicle (UAV) technologies, as part of its broader effort to utilize new robotic technologies to proactively inspect and maintain concrete roads, bridges and infrastructures.
Bechtel Construction Adds Drones to Its Fleet
Aizawa will deploy Top Flight's UAVs, also commonly known as drones, to accelerate the operational efficiency of both Line-of-Sight (LOS) and Beyond-Visual-Line-of-Sight (BVLOS) inspection of transportation infrastructure throughout Hokkaido and Japan. Joint efforts will extend to cultivating new business opportunities around commercial UAVs configured specifically for concrete-based inspections and various types of repair, leveraging both Top Flight's patented hybridelectric powered Airborg UAV and its 3D Real-time Simulation Environment & Fleet Management System for remote UAV operations.
How Drones Are Transforming the Construction Industry
Top Flight Airborg UAVs can stay airborne for up to two hours, while carrying a load of up to 10 kilograms. The UAV's companion 3D Real-time Simulation Environment & Fleet Management System is used for pilot training and to build and test autonomous missions in simulation. The system also provides a "Remote Location Operation Console" that enables simultaneous operation of multiple UAV units.
Quarry Keeps Finding New Savings with Drone Data
Through the use of drone technologies, Aizawa also seeks to enhance its existing operations, particularly for high-definition (HD) inspection, inventory and maintenance of assets under contract.
"In addition to solving the challenges of longer-duration flight for flying robots, Top Flight is developing the advance sensors and technologies that will maximize the effectiveness of our aerial inspection needs including quality analysis that will save our customers future ongoing maintenance costs," says Yoshihiro Aizawa, president and CEO of Aizawa Concrete Corporation. "Aizawa continues to invest in technologies that can extend the life of concrete and infrastructure products while controlling the ongoing cost of maintenance."
Autonomous Robots and Four More Emerging Construction Technologies