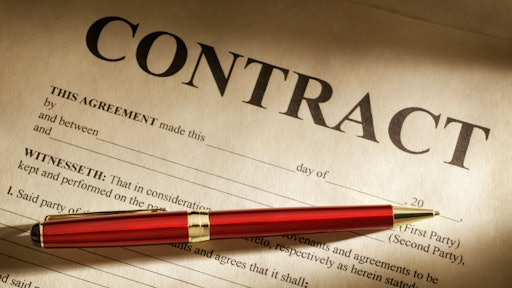 istock/Getty Images
The Engineering and construction (E&C) sector is shifting towards more fixed-price contracts, according to a report from Moody's Investors Service. The shift to fixed-price contracts is having some negative impacts on contractors and the construction industry.
A fixed-price contract has the client pay the contractor a lump sum or negotiated fixed price regardless of the expenses the contractor eventually incurs. Why accept a fixed-price contract? They types of projects have typically provided opportunity for higher margins if the project is completed at a lower-than-expect cost. However, if a change order is requested or the project is not completed at a lower-than-expected cost that's where problems may occur.

According to Moody's, the shift to fixed-price contracts occurred thanks to intense competition that increased customers' bargaining power and a change in the mix of projects typically completed on a fixed-price basis.
How is it affecting E&C companies?
More charges
Construction and engineering companies are consistently incurring more charges on fixed-price contracts. These issues have led to negative cash flows and weaker credit profiles across the sector. These charges have become more pervasive in the past few years, according to the Moody's report. Large construction companies like Fluor Corp., McDermott and Tutor Perini are just some examples of companies that have experienced this increase of incurred chargers.
Inability to accurately forecast project costs
Competition has led to more aggressive bidding on projects. But the inability to anticipate unforeseen issues or provide contingencies in bids for unexpected events often affect a company's ability to properly scope projects, price for risk and effectively execute the work. Some contractors are also hurt by lower-than-expected labor productivity, unforeseen execution issues and unusual weather events.
Project selection
E&C companies indicated they plan to be more selective on project bids and avoid fixed-price projects with a higher risk profile. Moody's does not believe these changes will materially transfer project risks back to the clients in the near-term.