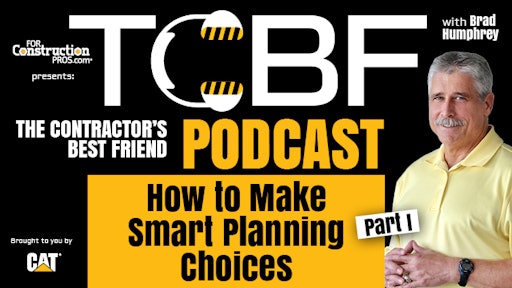 Looking to add to your equipment fleet? Brad Humphrey and Caterpillar experts, Jason Hurdis and Carey Nicholson, bring you the dirt on renting vs. buying equipment.
The team explains key considerations when making equipment acquisition decisions, including project size and depreciation.
Do you buy new, used, or rent your jobsite equipment? Listen to decide which choice is smart for your business.
Moderated by: 
Brad Humphrey, The Contractor's Best Friend, Pinnacle Development Group - Founder
Brought to you by:
Jason Hurdis, Caterpillar Inc, Global Market Professional – Quarry & Aggregates Industries
Carey Nicholson, Caterpillar Inc, Market Professional – Rental & Used
NEW EPISODES EVERY OTHER WEDNESDAY

Subscribe on iTunes: https://itunes.apple.com/us/podcast/the-contractors-best-friend/id1406479825?mt=2
Listen on Stitcher: www.stitcher.com/s?fid=205707&refid=stpr
Leave a review: https://itunes.apple.com/us/podcast/the-contractors-best-friend/id1406479825?mt=2
Tell us what you think of the podcast series, take our survey: https://www.surveymonkey.com/r/DRWNVYR