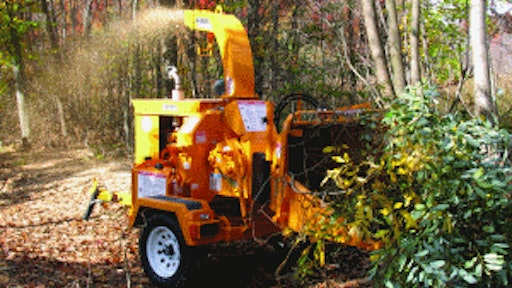 Safety should be the number one detail covered when renting a chipper. And with customers ranging from homeowners to landscape contractors, you should never assume the level of experience of any operator. Customers should be instructed not only on the proper use of the equipment, but also how equipment can be dangerous if not used properly.
Many suppliers offer a safety video that covers all these areas. The first step to a safe chipper rental is ensuring that all your customers watch these 10-minute videos that cover basic, proper operating procedures.
Operator dos & don'ts
While the supplier video is a great first step, customers should be given a clear list of instructions - either verbal or written - before they begin operating.
The safety presentation should include: how to dress and what type of clothing to avoid (i.e. loose clothing); where to stand; how to stage material; how to feed material into unit; how to properly operate the control bar and safety features of the equipment; how to safely discharge material; how to properly start-up and shut-down the equipment; and how to properly tow and transport the unit.
These instructions should also be included:
Never operate a chipper alone. There should always be at least two trained operators on the worksite at all times.
Avoid walking in the path of the discharge chute while the machine is in operation.
Keep your face and body back from the feed hoppers to avoid blowback. Only operate the unit from the 'operator zone.'
Avoid breaking the plane of the infeed when feeding material.
Never place hands or feet inside the infeed chute while the machine is in operation.
Never try to maintain the rental unit. When it comes to maintenance, a renter should contact the rental company if a problem arises. Rental companies should stress this to their renters. Rental customers should NEVER work on the piece of equipment they are renting, especially if the unit happens to plug. Contact the rental company so a properly trained service technician can work on the unit.
Never operate equipment with the disc/drum hood open or guards missing.
Never operate the machine in an area where potential damage can occur from the high-velocity discharge of material (e.g. discharging into a truck bed or next to a physical structure).
Keep children and pets away from the chipper during operation.
Long hair should be secured and jewelry should be removed.
Personal protective equipment
While you can't be on the jobsite with your customers to ensure they're wearing the correct personal protective equipment (PPE), you can tell them what they should be wearing - and even provide them the opportunity to buy it from you.
Proper PPE for chipper rentals includes:
Hard hat with face shield
Gloves without cuffs (no gauntlet-style gloves)
Hearing and eye protection
Work boots with hard toes
Snug, tucked in clothing
Equipment inspections
The final step to safe chipper rentals is thoroughly inspecting the unit before each rental. All inspections should be done with the key removed and the ignition in the OFF position.
The following steps are a brief outline of tasks to be completed for safe and maximum performance, but for detailed instruction the owner's/operator's manual should always be followed for proper maintenance procedures.
Review all safety decals and check all engine gauges, replacing any that might be damaged.
Make sure all guards are tight and securely in place.
Inspect all OEM installed safety devices for proper operation.
Inspect the operator control bar, making sure it moves freely and functions properly.
Inspect the chipper disc or drum for wear and/or cracks.
Inspect the chipper knives for damage and replace, or flip as needed.
Inspect chipper knife attaching hardware and replace as needed.
Inspect the chipper anvil area to ensure the material cutting edge is within OEM tolerances (i.e. cutting edge is the proper distance from the knives and has a good 90-degree cutting edge). This will help eliminate stress on other chipper components and help reduce the potential for plugging the unit.
Inspect belt tension, making sure the belts are within tolerance from the engine to the cutting mechanism.
Inspect all trailer lighting before releasing the unit from the yard, making sure all lights, blinkers and four-ways are in good operating condition.
Make sure an operator's manual accompanies every rental.
With chipper rentals, safety training is key. Any machine that can pull in a whole tree and chip it in less than a minute is dangerous if the operator isn't trained properly and doesn't follow proper safety procedures.
Accidents usually occur when people make mistakes ... make sure your customers don't make any by instructing them on the proper operating procedures and by renting them thoroughly inspected, safe equipment.
Companies in this article